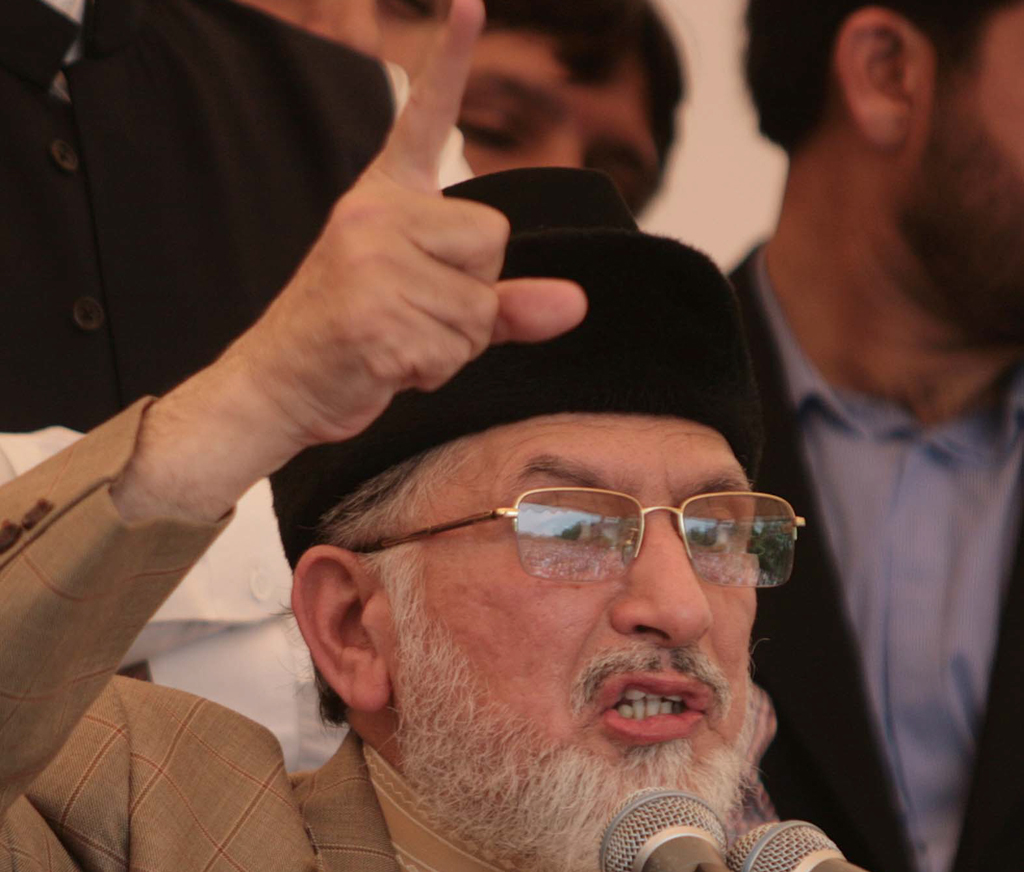 ---
LAHORE: The Punjab government has registered a First Information Report (FIR) against Pakistan Awami Tehreek (PAT) chief Tahirul Qadri for inciting violence, Express News reported on Wednesday.

A case vide FIR No. 304/14 has been registered at Data Darbar Police station against the PAT chief under section 121 & 506 of Pakistan Penal Code (PPC) and section 7 of Anti Terrorism Act (ATA) on the complaint of Muhammad Khursheed, a private person and resident of Mohni Road (area falls in the jurisdiction of the PS Data Darbar ), Lahore.

The Fir was later sealed.

Section 121 PPC: Waging or attempting to wage war or abetting waging of war against Pakistan:

Whoever wages war against Pakistan, or attempts to wage such war, or abets the waging of such war, shall be punished with death, or imprisonment for life and shall also be liable to fine.

A joins an insurrection against Pakistan. A has committed the offence defined in this section.

Section 506 PPC: Section 506 of Pakistan Penal Code-PPC | Punishment for criminal intimidation:

Whoever commences the offence of criminal intimidation shall be punished with imprisonment of either description for a term which may extend to two years or with fine or with both.
If threat be to cause death or grievous hurt, etc.: And if the threat be to cause death or grievous hurt, or to cause the destruction of any property by fire, or to cause an offence punishable with death or imprisonment for life, or with imprisonment for a term which may extend to seven years, or to impute unchastity to a woman, shall be punished with imprisonment of either description for a term which may extend to seven years, or with fine, or with both.

Section 7 ATA

7. Punishment for terrorist act

Whoever commits a terrorist act,-- (i) referred to in paragraph (a) of section 6, shall-- (a)if such act has resulted in the death of any person be punished with death; and (b)in any other case, be punishable with imprisonment for a term which shall not be less than seven years but may extend to life imprisonment, and shall also be liable to fine; and (ii) referred to in paragraphs (b) and (c) of section 6 be liable to the punishment prescribed under the relevant law.

7A. Creation of civil commotion

"Civil commotion" means creation of internal disturbances in violation of law or intended o violate law, commencement or continuation o illegal strikes, go-slows, lock-outs, vehicles snatching or lifting, damage to or destruction of state or private property, random firing to create panic, charging bhatha, acts of criminal trespass (illegal qabaz), distributing, publishing or pasting of a handbill or making graffiti or wall-chalking intended to create unrest or fear or create a threat to the security of law and order to incite the commission of an offence punishable under Chapter VI of the Pakistan Penal Code (Act XLV of 18.

Earlier, without giving a date for his revolution march, Qadri said his party leaders and supporters were only concerned about observing Youm-e-Shuhada in honour of those killed in Model Town clashes.

Qadri was addressing a joint press conference with Chaudhry Shujaat and Chaudhry Pervaiz Elahi at their residence in Lahore.

Assuring that August 10 gathering will be peaceful, Qadri said the Pakistan Muslim League – Nawaz (PML-N) leaders will be responsible if violent measures are undertaken against the mourners.

"There are certain people in the government who are advising PML-N leaders to use violence against peaceful protesters ... those people are only pushing the ruling government closer to its end," he said.

The PAT chief also said the day of revolution will come before the end of August.

"No power in the world can stop this revolution from coming," he said, adding PAT will decide about its date after August 10.

Criticising the government for initiating money laundering investigation against him with ill intent, Qadri said the outcome of the inquiry proved that all the charges were made up.

Chaudhry Shujaat, while speaking to the media, said the revolutionary movement started by Qadri will benefit the public and change Pakistan's destiny once it reaches its logical conclusion.

"Everyone talks about freedom and the rights of the people; revolution is necessary to ensure that freedom," he said.

Correction: Earlier version of the story wrongly mentioned that the FIR was registered at Faisal Town police station.