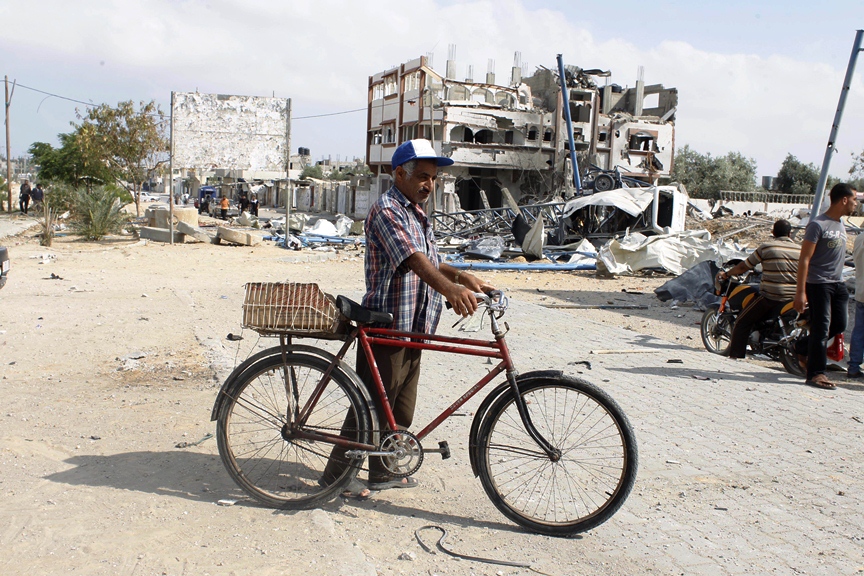 ---
JERUSALEM: Israeli and Palestinian officials set for crunch talks in Cairo will decide whether to extend a fragile truce and who can best profit from the latest fighting in Gaza.

Analysts say the jury is still out on who won or lost the most from the one-month conflict that killed 67 in Israel and more than 1,870 Palestinians, cautioning that a tentative ceasefire could erupt quickly into further bloodshed.

A small Israeli and a joint Palestinian delegation, representing the Palestinian Authority, Hamas and Islamic Jihad, have been dispatched to the Egyptian capital with demands all but impossible to reconcile.

The United States will "likely" participate in the talks, a State Department spookesperson said in Washington.

Palestinian analysts agree that Hamas, the organisation that controls the Gaza Strip but blacklisted a terrorist organisation by Israel, must act quickly to consolidate their position.

The losses it inflicted on Israel have increased its popularity among Palestinians and Arabs, said Mukhaimer Abu Saada, political science professor at al-Azhar University in Gaza.

"It achieved military successes that no one could imagine," he said.

Isolated and weakened by Israel's eight-year blockade on Gaza and deteriorating relations with Egypt, Hamas is back to the political fore, taking a central role in representing Palestinian interests, he said.

But for the Palestinians and Hamas in particular, Abu Saada says the real challenge is not only the truce, but reconstruction, education and the fate of hundreds of thousands of people displaced by the fighting.

One of the Palestinians' key demands in Cairo will be the lifting of Israel's blockade, which suffocates the tiny sliver of territory, home to 1.8 million people and smaller than Britain's holiday island, the Isle of Wight.

The Palestinian delegation also wants Israel and Egypt to open Gaza's border crossings.

"If results don't tally with attacks then Hamas won't come out stronger, quite the contrary," said George Giacaman, professor at Bir Zeit University in the West Bank.

Lifting the blockade looks uncertain at best.

Israeli officials want nothing coming into Gaza that could be used to build tunnels used by Palestinian fighters to infiltrate Israel and a major reason for Israel's ground offensive.

Asked about a possible lifting of the blockade, Yigal Palmor, spokesman for the foreign ministry, said Israel allows the passage of "almost everything, including building materials, provided they are intended for projects led by the UN, international organisations, foreign countries."

Prime Minister Benjamin Netanyahu insists that Israel's security must come first.

The army says it dealt a heavy blow to Hamas, that 900 "terrorists" were killed, and its network of tunnels and thousands of rockets destroyed.

But it also concedes the threat has not been eliminated entirely.

"We expect that they still have about 3,000 rockets left. This is a challenge we have to address," army spokesperson Lieutenant Colonel Peter Lerner said.

There are those on the political right in Israel that are clamouring for even tougher action to come.

"If the rocket fire resumes, I would be in favour of a total reoccupation of the Gaza Strip,"  Communications Minister and Netanyahu ally, Gilad Erdan, told army radio.

But Israeli analysts see more mixed results.

"The military capabilities of Hamas were not destroyed and the Israeli army failed to eliminate important military and political officers in Hamas," said Ely Karmon, a researcher at the Herzliya Interdisciplinary Center.

"That's why the results of the operation are mixed," he added.

Analysts stress that the truce is fragile.

"I'm not sure at all that the ceasefire will hold a long time because the raison d'etre of Hamas is the destruction of Israel," said Mark Heller, a member of the Centre for Strategic Studies, at the University of Tel Aviv.

And comprehensive peace talks between Israel and the Palestinians are something else.

"Peace negotiations are separate from the situation in Gaza," said Yossi Kuperwasser, director general of Israel's ministry of strategic affairs.

"No one is more interested in peace than we are, but in order to resume peace talks something has to happen on the Palestinian side. And what we see now is the Palestinians still launching rockets."
COMMENTS (4)
Comments are moderated and generally will be posted if they are on-topic and not abusive.
For more information, please see our Comments FAQ