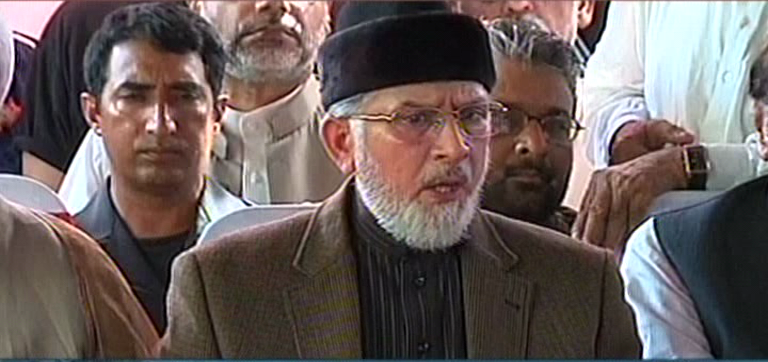 ---
LAHORE: A visibly agitated Pakistan Awami Tehreek (PAT) chief Dr Tahirul Qadri slammed the government on Tuesday for attempting to derail his Youm-e-Shuhada rally on August 10 by harassing transporters.

Seated with members of the Sunni Ittehad Council (SIC) on his left and Pakistan Muslim League-Quaid (PML-Q) chief Chaudhry Shujaat, the PAT chief said the licenses of drivers were being cancelled.

"Route permits are being taken from transporters ... actually, they are being snatched from them," said Qadri, adding that the government is trying to derail the Youm-e-Shuhada rally in Lahore on August 10 in honour of those who had died in the Model Town clashes in which over a dozen PAT workers were killed.

Further, Qadri said the August 10 rally is solely meant to mourn the victims of the Model Town tragedy and that his party would conduct meetings after the event to announce their plans for Youm-e-Inqiliab.

He assured his supporters and the government that the the rally on August 10 would be peaceful while requesting his followers to bring their prayer mats for recitation of the Quran.

"Our main aim is to bring a peaceful revolution," Qadri said.

The PAT chief went on to slam the government for accusing him of terrorist activities. "All these FIRs you are registering against us, be ready for them to be issued against you after August 10," he said.

"Previously, when there was a coup, you went and hid. The army had to come get you out, after which you fell to their feet and then ran away. Today, Musharraf is not here to do this, now the masses will be hold you accountable," said a fiery Qadri.

"You will not get the opportunity to run away from this country. We will not put you on the ECL. This will be the work of the masses."

"The amount of deaths you have caused in Peshawar, Lahore, Gilgit-Baltistan, Hangu, Karachi... are these people not Pakistani? Are they not human?" Qadri asked rhetorically.

Previously, Qadri had said the current government would be ousted before the end of August. Today, in his speech, he reiterated this statement, saying that the current government would be ousted before August 31.

Further, Qadri said Gilgit-Baltistan (G-B) would be made into a seperate province to ensure the people of G-B receive all the benefits other provinces do.
COMMENTS (8)
Comments are moderated and generally will be posted if they are on-topic and not abusive.
For more information, please see our Comments FAQ