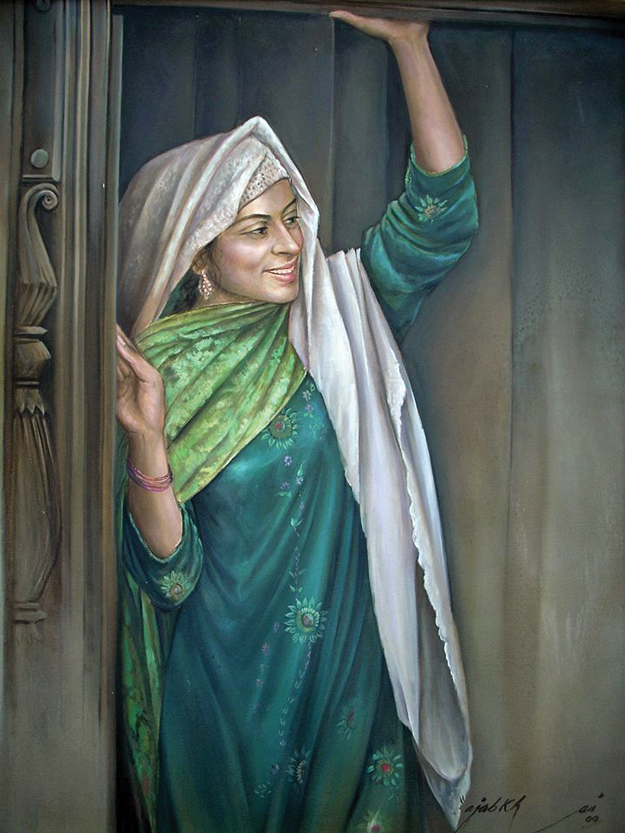 ---
PESHAWAR:



His art tries to place sorrow and the joyous disposition of society in a logical order. In Ajab Khan's paintings light shines through the dark and women are only real when close enough to their protective enclaves. His work is not utopic but it's certainly not mired in the darkness which makes up the headlines in dailies or on TV.




The landscapes might be a bit flat and insipid, but the portraits have a certain charm. They draw the viewer in.




Maybe it's because in some of his work, women are more than just shadows shrouded in fabric, with eyes, mouths, noses, breasts and bodies. Or perhaps because all the subjects look askance, out of the frame, making the viewer wonder — what are they looking at?

Khan was born in 1963, and is from Saraiki Wasib in DI Khan. Although he did his master's in Urdu literature, Khan ended up under the tutelage of Iqbal Shahid who taught him the essentials of painting with oils and drawing. "Even as a child, I liked to paint. I'm a paidaishi (born) artist," Khan tells The Express Tribune.

Today, Khan has been producing art for at least 30 years.

He held his first solo exhibition in DI Khan, then moved on to showcasing his work at the National Art Gallery in Islamabad and held three more solo exhibitions across the country. Not only are his paintings a part of people's lives as they hang on living room walls but his work has also received national recognition, including three Sadeqain awards. Khan is also the recipient of the Guljee, the Ahmad Faraz, and two Allama Iqbal awards.




Khan tells The Express Tribune that he wants to highlight his environs; "A painting is deprived of any meaning if it is not situated within the context of contemporary culture and environment." The people here love their lives and lands, which is why Khan says he wants to paint subjects they will enjoy viewing.

Art is meant to be simple, to speak to everyone; one should not need a degree to be able to enjoy it. This is the ethos on which Khan bases his work. "It should not be beyond the reach of the people of my area."




His work ranges from portraiture, landscapes, market scenes to slightly esoteric, Islamic calligraphy.

"For me, one of the most valuable art forms amongst Muslims is calligraphy," says Khan. It is one of the oldest in the world. The importance of Islamic calligraphy, he states, can be gauged from how it "festoons the courtyards of mosques all over the world."

Published in The Express Tribune, August 5th,2014.