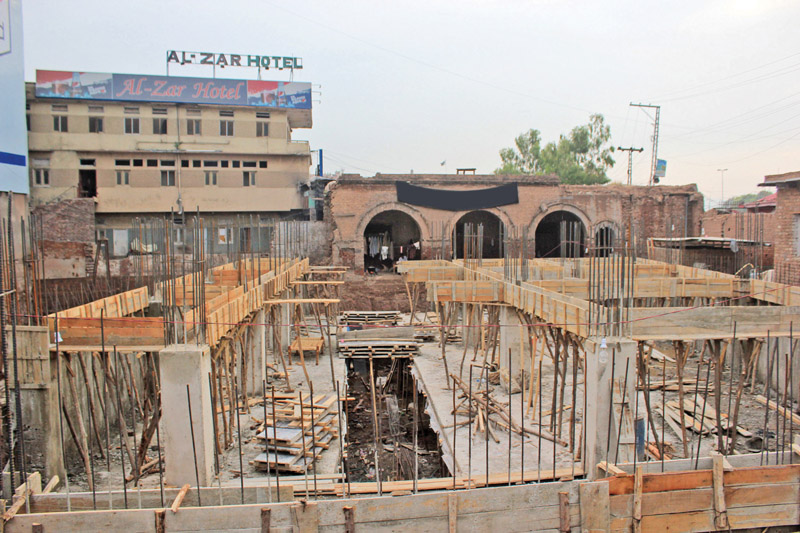 ---
PESHAWAR:



Before the advent of plush modern hotels, buildings known as sarai offered an affordable option to travellers looking for a place to spend the night.




The word sarai can be traced to the Arab parts of the erstwhile Ottoman Empire and literally means 'palace'. In Persian, the word translates to 'inn'. Some were large enough to have stables for camels and horses; these were known as caravansarai.





The sarai on Ashraf Road was recently demolished to make way for a modern plaza. PHOTO: MUHAMMAD IQBAL/EXPRESS




One such sarai on Ashraf Road was recently demolished to make way for a modern plaza. All that remains of the building are two rooms and a veranda, which too will be razed after the plaza is complete as they are presently being used by the contractor and his staff.

A shopkeeper, Haji Naseer, told The Express Tribune there used to be several sarai in a row on Ashraf Road. "In the past, they were used as hotels by travellers, but soon went out of business. Around that time, shopkeepers like me rented the rooms to use as a store. I also rented a room and opened a shop in it."

Naseer added that 10 years ago the three standing sarai were torn down in favour of large shopping plazas. "They were beautiful but traditional buildings, probably built around the time of the British occupation because they were not constructed from Waziri bricks of the Mughal era and instead from modern [red] bricks introduced after the British annexation."




Another enthusiast, who is currently writing a book on the old city, Humayun Akhund, said the famous Gor Gathri complex was also a sarai at some point in the Mughal era. "Today, I can count only three such buildings. The fourth one, on Ashraf Road, is no more," he added.

"In these sarai, a kehwa khana was a must. People did not use modern furniture like chairs. Instead, there used to be a chabutra covered with a carpet where people sat and talked."

Akhund said a munshi (accountant) also used to sit on a similar chabutra, which is a tower-like structure with a platform at the base. The chabutra was often built at the main entrance; the atmosphere and lifestyle in Peshawar was not much different from the ways of Kashgar or the ancient Bukhara city.

"They (sarai) were a necessity because Peshawar lay on the route of the trans-Afghanistan caravan trade and was full of travellers coming from as far as Kashgar, Kabul, Bombay, Delhi and Bukhara."

The sarai hotels today are not a reflection of their older counterparts. While the earlier ones were well kept and spacious, the ones today are dingy and dilapidated. One can get a sleeping space in them for as low as Rs75 per night, albeit in the main hall shared by other travellers looking to catch a hurried night's sleep.

Published in The Express Tribune, August 5th,2014.
COMMENTS
Comments are moderated and generally will be posted if they are on-topic and not abusive.
For more information, please see our Comments FAQ