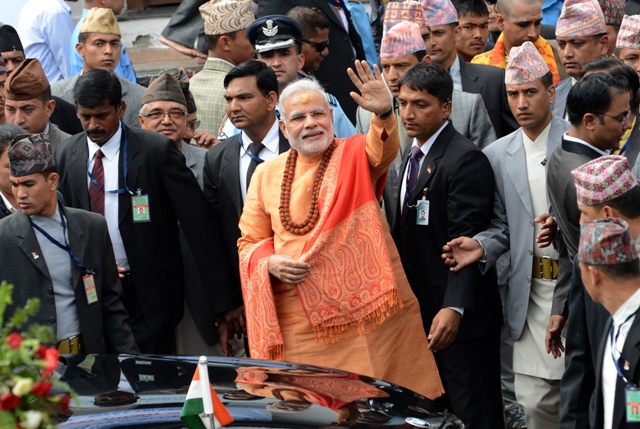 ---
KATHMANDU: When India's Prime Minister Narendra Modi travelled this week to Kathmandu on a historic visit, he stunned observers by bringing along a surprise guest, his Nepalese foster son.

The 63-year-old prime minister is known to be extremely secretive about his personal life, and only acknowledged he was married a month before winning national elections in May.

But in a rare display of openness, Modi posted a series of tweets about the previously unknown Jeet Bahadur Magar, whom the premier has been assisting since discovering him as an 11-year-old boy in western India.

"I started showing my concern for Jeet Bahadur. Gradually, he took interest in academics, sports & even learnt (to speak) Gujarati," Modi tweeted.

The premier funded the boy's education and years later asked Nepalese business magnate Binod Chaudhary, head of the Chaudhary Group, to help him find his family in Nawalparasi district, about 250 kilometres southwest of Kathmandu.

Magar, now 27, who is still living in India but has reconnected with relatives, accompanied Modi on his two-day visit to Nepal, which ended on Monday, so the premier could meet his family.

"The prime minister wanted to personally bring them together," Madhusudan Poudel, head of communications at the Chaudhary Group, told AFP.

Photos of the reunion on Sunday -- showing Modi, his foster son and his family -- were posted on the Indian foreign ministry's Twitter account.

Magar is pursuing a business degree in Gujarat and will return to India after spending some time with his family.

"The whole world now recognises Narendra Modi, but for me he is my big brother," Magar told India's ANI news agency.

"I met him when I was little, he took care of me like his own son," he said.

According to reports, Magar had travelled as a boy to India to work with his brother, but after deciding to leave, boarded the wrong train and arrived alone in Modi's home state of Gujarat instead of at the Nepalese border.

Routinely described as a bachelor, Modi is thought to have lived alone in his adult life having risen through the ranks of a grassroots Hindu nationalist organisation in which celibacy is expected.

He reportedly walked away from a marriage arranged by his parents when he was a child.

Other parts of his personal story remain shrouded in mystery, particularly a period as a young man when he is believed to have wandered in the Himalayas on a journey of spiritual discovery.

A devout Hindu, Modi on Monday offered prayers at the Pashupatinath temple complex in Kathmandu, a UNESCO World Heritage Site.

According to the Indian Embassy in Kathmandu, he gave two and a half tonnes of sandalwood to the temple, for use in its religious rituals, and offered a further 50 million rupees to build toilets on the premises.