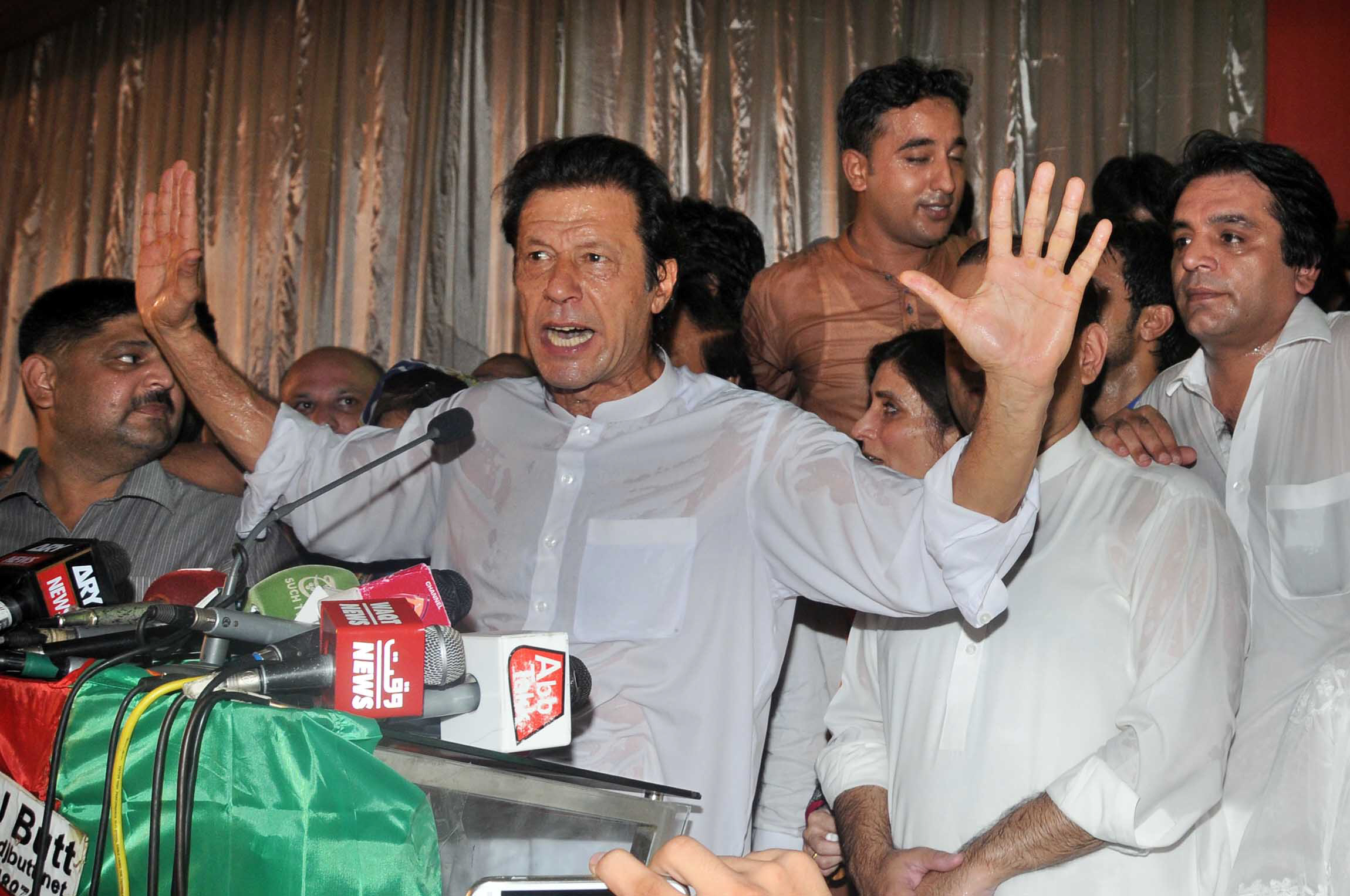 ---
LAHORE/ISLAMABAD: Pakistan Tehreek-e-Insaf (PTI) chairman Imran Khan warned the government against denying his party its constitutional right to protest on August 14. "If the government tried to put me under house arrest, I promise you, we'll shut down the whole country," Imran told a PTI workers' convention in Lahore on Sunday.

He promised to lead a million-man march to the federal capital. "And our sit-in will not end until we make a Naya Pakistan," he said and called upon young members of his party to prepare for the decisive rally. "One hundred thousand motorcyclists will be part of the rally from Lahore," he added.




He said that all lawmakers of the PTI were ready to resign. "Our people are ready to sacrifice their lives, let alone tendering resignations," he added.

The PTI chief warned the Punjab police and administration against creating any hurdles for his party's marchers. "The Punjab police and administration have to decide whether they are slaves of the Sharifs or government servants. If any of my workers is tortured or harassed, the Punjab police will not get a place to hide," he said.

Imran said that PTI's struggle was for genuine democracy. "There is a difference between monarchy and democracy. In kingship, people cannot hold the king accountable but in democracy they can. As a taxpayer, I ask the prime minister, Nawaz Sharif, how did his family make such a huge fortune?"

Accusing the Sharif family of corruption, he said the prime minister's son owns a Rs200-billion company in London and took tenders as big as Rs7 billion. "The rulers are spending Rs4.3 million a day to lure foreign investors into Pakistan but their own money is stashed abroad," he added.

Imran claimed that the PML-N government spent Rs400 million on the security of the prime minister's Raiwind estate and set aside Rs9 billion for building infrastructure there. He alleged that there were 71 graft cases against the Sharif family in the National Accountability Bureau (Nab).

The PTI chief also announced that he would hold two press conferences before the August 14 Azadi March. "In the first press conference, I'll tell you how the 2013 elections were massively rigged and in the second press conference I expose those who aided and abetted the rigging," he added. "We will tell the international media that this is a fake government that came to power by stealing the people's mandate."

Imran has accused the Election Commission of Pakistan of aiding and abetting the rigging in favour of the PML-N. But he added that the time of the PML-N government was up and that the PTI would hold the new general elections under a new election commission.

Call for midterm polls

PTI's Secretary Information Dr Shireen Mazari, meanwhile, said that the D-Chowk sit-in would continue until the government dissolved the assemblies and held fair mid-term elections. "We found election discrepancies in every constituency and we feel that this is a rigged mandate. The government has no legitimacy. It has no right to stay in power with this dubious mandate," Mazari told journalists in Islamabad.


Outlining her party's strategy, she said discussion was under way and final demands would be made public by Imran Khan at a press conference within two days. "We feel that if the elections were rigged on such a massive scale, then holding fresh election has become mandatory," she added.


Published in The Express Tribune, August 4th,2014.
COMMENTS (21)
Comments are moderated and generally will be posted if they are on-topic and not abusive.
For more information, please see our Comments FAQ