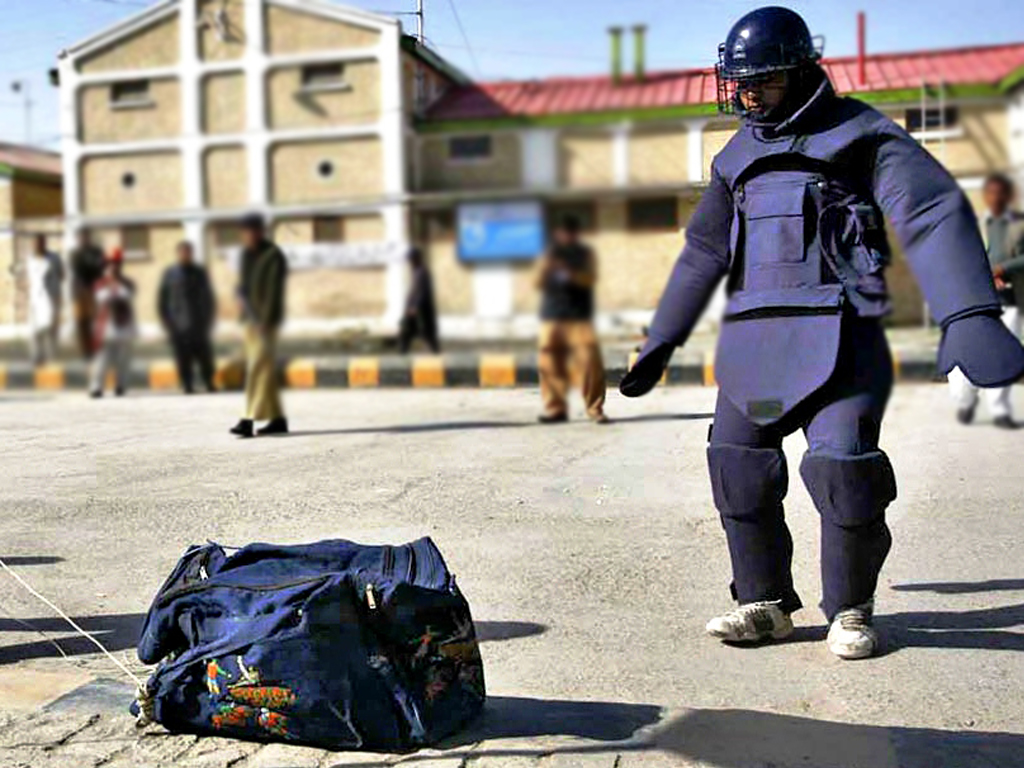 ---
SHANGLA:



A massive terrorism bid was foiled by the Shangla police on Sunday when a 35-kilogramme bomb was defused in Saboney, an area located along the border of Swat and Shangla districts.




According to Shangla DPO Khalid Nasim, a police team was patrolling the outskirts when they spotted suspicious looking material lying on the side of a road. He added that the policemen called in the bomb disposal unit, which arrived at the site and defused the device.

According to an official of the BDU, the bomb weighed 35 kilogrammes and was made up of eight detonators, two electrical circuits and a prima card, said the DPO.

Nasim explained that patrol teams had been increased in the area because unidentified militants had targeted an electricity tower in Saboney village a few days ago.

"Large-scale human and property loss would have occurred if the bomb had exploded. Thankfully, timely police action prevented a tragedy from happening and foiled the militants' plan," said Nasim. A search operation was under way in the area, however, no arrests were made till this report was filed.

Over the past decade, militancy has infiltrated all districts of the province. Police and security forces convoys as well as civilians are relentlessly targeted by militants in bomb attacks. Law-enforcement agencies scramble to keep law and order under control and have had several successes.

Blasts averted

August 2 – Three bombs  are defused by BDU
staff from different areas of Charsadda

July 18 – A 5kg roadside bomb in Lachi, Kohat is decommissioned by bomb disposal officials, while a remote-controlled 6kg bomb is neutralised in Masho Khel, Peshawar

July 7 – Security forces convoys travelling on Thal-Hangu Road are the target of a 5kg bomb which is spotted on time and defused. A similar 5kg bomb is tackled in Khyber Agency

June 15 – Two kgs of explosives planted 100 meters away from a police station in Saifan Koruna, Charsadda are defused

 July 27 – Sro Kalay police in Charsadda intercept a three-wheeler carrying six bombs. The driver escapes and the BDU defuses the bombs

 July 13 – In Shahkas, Jamrud tehsil of Khyber Agency, a pedestrian spots a 5kg bomb and informs the political administration. The BDU renders the bomb useless

July 3 – Upon receiving a tip-off, experts find a bag full of explosive devices in Mera Masho Gagar, Peshawar and disable its contents

June 13 – A high-intensity bomb weighing 20 kgs planted outside a mosque in Doaba, Hangu is neutralised

June 8 – Militants place 700 grammes of explosives at the base of a phone tower in Bannu which are spotted and removed

Published in The Express Tribune, August 4th,2014.