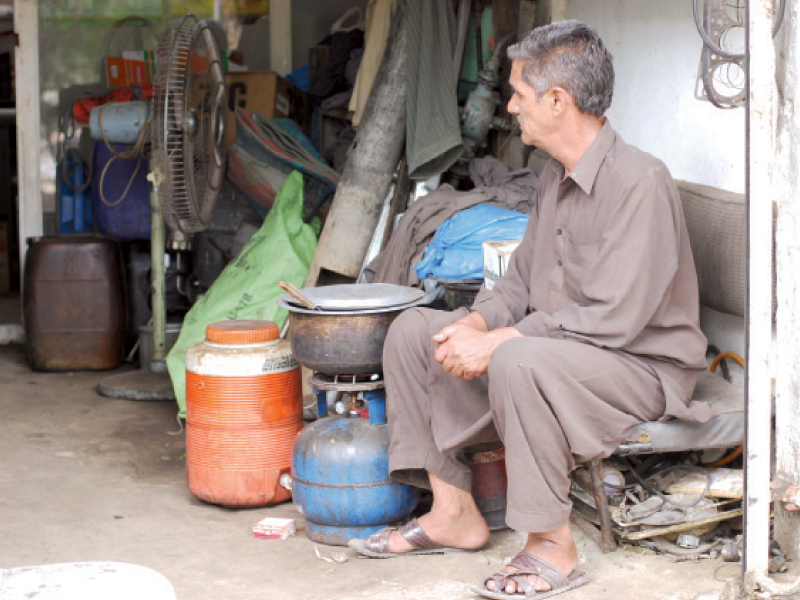 ---
ISLAMABAD:



Roshan Khan's wrinkled face is hard to miss when one approaches his small auto-repair shop in G-9 Markaz. His weather-beaten face betrays the story of a long journey spanning over almost half a century, consisting of uninterrupted labour, suffering and sleepless nights.




He was an infant when the Indian Army moved into Kashmir. As a result, his family, who lived in a small town called Islamabad, migrated to Chikoti, another little town on this side of the Line of Control in 1947. Roshan spent a happy childhood in Chikoti but then tragedy befell him when both his parents passed away. He soon realised that he was left all alone in the world without any support or source of income.

He moved to Rawalpindi in the 1960s and started working as an apprentice at an auto repair workshop. In those days Islamabad was coming up fast as the capital of the country. Roshan was nostalgic about Islamabad because it bore the name of his birthplace. He thought Islamabad offered better opportunities so he rented a small workshop where he now works. Roshan has one helper, who is paid Rs400 a day.

Roshan has a wife and a daughter who live in Chikoti. His son, Amir, drives a taxi and shares a rented room in Rawalpindi with others. He barely makes enough to support himself. "Ever since I moved out of Chikoti, 45 years ago, I cook, eat and sleep in my workshop." After paying my rent and my helper's salary, I send whatever little money remains to my wife and daughter. There is none left for me to rent or even share accommodation, he added.

Roshan yearned to send both his children to college but due to financial constraints his son had to discontinue his studies and start working right after his matriculation. His daughter is enrolled in Allama Iqbal Open University and will be taking her final exams this year.

"I've written several applications to officials in the Capital Development Authority (CDA) requesting them to allot me a small plot since I'm an immigrant from Indian Kashmir, but nothing has happened all these years." I had neither the connections nor money to be able to get what I deserved, said Roshan, wiping sweat off his forehead.

The fact that despite working non-stop for half a century and being forced to live away from his family, Roshan is without a roof of his own, gives him a lot of heartache.

CDA spokesperson Asim Khichi, while speaking to The Express Tribune, said immigrants from Pakistan and India who had lost their property could claim it from the government of the country they had migrated to, but those without proof of ownership were not entitled to claim property in Pakistan.

It seems that Roshan's dream of owning a small house in Islamabad or its outskirts, where he can live with his wife and children, will not see the light of the day in his lifetime.

Published in The Express Tribune, August 3rd, 2014.