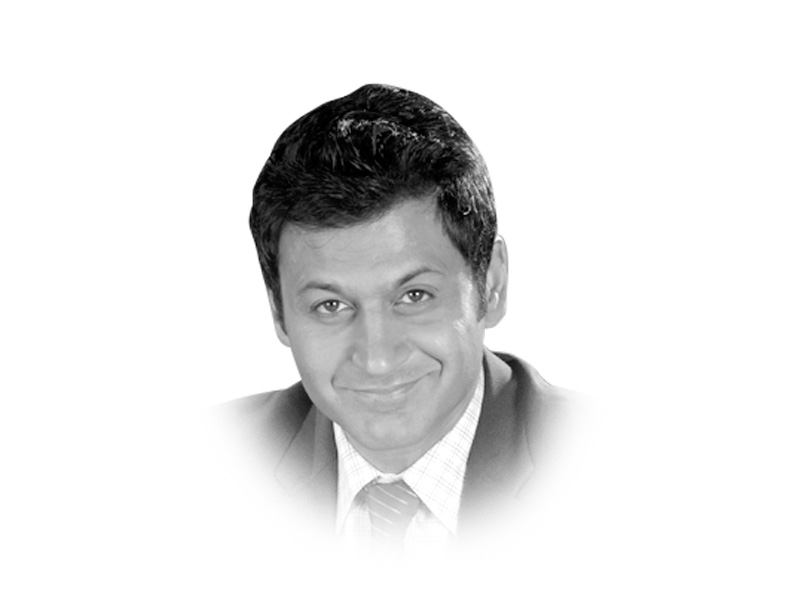 ---
The struggle of man against power is the struggle of memory against forgetting — Milan Kundera

This August 14, there will be plenty to remember because plenty has been forgotten. As the forces of Nawaz Sharif and Imran Khan polish their body armour for the Battle Royale on Independence Day, the memories of what this nation was created for would be far from their minds.

Nawaz Sharif was born on December 25, 1949; Imran Khan on November 25, 1952. Both would be too young to remember when Ayub Khan imposed Pakistan's first martial law. Neither would have realised that the dream called Pakistan had already begun to go sour.

A decade earlier, words spoken by the Father of the Nation, had already started to lose meaning for those who sat atop the young and promising nation. On August 11, 1947, the Quaid-e-Azam stood before the Constituent Assembly of Pakistan and said:

"Now, if we want to make this great State of Pakistan happy and prosperous, we should wholly and solely concentrate on the well-being of the people, and especially of the masses and the poor … If you change your past and work together in a spirit that everyone of you, no matter to what community he belongs, no matter what relations he had with you in the past, no matter what is his colour, caste or creed, is first, second and last a citizen of this State with equal rights, privileges, and obligations, there will be on end to the progress you will make."

Little did he know…

The history of the last 67 years is a history of broken promises, shattered dreams and wasted potential. It is a history of pygmies rising to dizzying heights through a system manipulated for personal gain. It is a history of petty agendas dressed up as national priorities; of bloated egos trumping the dictates of nation-building. It is a history of burying the Quaid, then his words, and finally his dream.

It is a history of forgetting.

Perhaps, it is easy to forget that nations — like individuals — need a moral centre. The Constitution reflects this moral foundation. But does it reflect the realities of life in Pakistan? Do the realities of life in Pakistan reflect our Constitution? The discrepancy — and there is a yawning one — is the moral centre that has disintegrated.

Turning and turning in the widening gyre/The falcon cannot hear the falconer/ Things fall apart; the centre cannot hold/Mere anarchy is loosed upon the world/ The blood-dimmed tide is loosed, and everywhere/ The ceremony of innocence is drowned/ The best lack all conviction, while the worst/Are full of passionate intensity. — William Butler Yeats

For the centre to hold, morality has to return to this land. Beyond the rigours of politics, beyond the vagaries of daily struggles, and beyond the stagnating stench of status quo, the age of morality has to rise again to rule the Quaid's land. No, it's not really complicated. Some things are just plain wrong. Cheating is wrong. Injustice is wrong. Exploiting the weak is wrong. Corruption is wrong. Nepotism is wrong. Torture is wrong. Persecuting minorities is wrong.

And yes, lacking conviction is wrong.

There will be much that will happen in Islamabad this Independence Day. Blue Area will be full of red rage. Emotion will surge in waves and anger will swirl like a raging tornado. And Pakistan will yet again vent. Yes vent in anger and vent in frustration. Vent in helplessness and vent in pure agony at the dream promised but not delivered. For the issue is not just four constituencies or a reformed election commission; the issue is not just rigging and cheating and a demand for fresh elections; no these are all symptoms of a much deeper and deadlier malaise that is gnawing away the soul of this nation: the deliberate destruction of the moral centre.

And perhaps, the only thing worse than this destruction is our willingness to live with it; our acceptance of this crime as a fait accompli — something that is integral to life in Pakistan. So we live with the fact that this system only rewards certain families to the exclusion of everyone else; that it bends the law to suit the powerful and crush the weak. We live with the fact that nepotism will always rule here; that sons and daughters of the mighty will always lord over us; that who you know will always be more important than what you know. We live with the fact elections will always be manipulated and minorities will always be persecuted; that police will always torture citizens and VIPs will always break traffic laws.

We live with all this because we are losing the struggle between memory and forgetting; because the best lack all conviction and the worst are full of passionate intensity. So this Independence Day, let us aim to salvage our sense of morality and win the struggle against forgetting by remembering what the Quaid said in his August 11, 1947 speech:-

"I shall always be guided by the principles of justice and fairplay without any, as is put in the political language, prejudice or ill-will, in other words, partiality or favouritism. My guiding principle will be justice and complete impartiality, and I am sure that with your support and cooperation, I can look forward to Pakistan becoming one of the greatest nations of the world."

Published in The Express Tribune, August 3rd, 2014.

Like Opinion & Editorial on Facebook, follow @ETOpEd on Twitter to receive all updates on all our daily pieces.