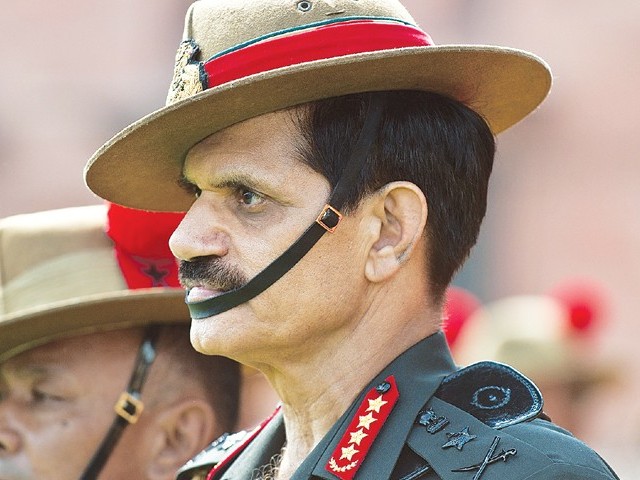 ---
'How not to conduct international relations' may be the title of a future book by the incoming Indian Army Chief, General Dalbir Singh Suhag. Although he may have been somewhat goaded by reporters, he lost no time in finding a sabre to rattle, saying that any future incident such as that in January 2013, wherein it is alleged that Pakistani troops beheaded an Indian soldier, would engender a response that was "more than adequate, intense and immediate".

He was quoted in The Times of India and it must be assumed that he was speaking to a domestic audience, but aware of cross-border resonances. The incident(s) that he referred to began on January 8, 2013 and continued till August of that year, accompanied by some shrill reporting on the Indian side and a more muted approach in Pakistan, preoccupied as it was with the then upcoming elections.

This kind of crude and bellicose posturing is not the way to conduct good business. The Line of Control (LoC) fluctuates in terms of 'heat' and both sides appear to be responsible for ceasefire violations from time to time, suggesting that neither side is entirely blameless. That said, there are mechanisms in place by which de-escalation may be achieved in the event of an incident, and the deployment of a weapons-grade megaphone is not one of them.

General Singh has raised the temperature unnecessarily, doubtless pandering to the nationalist sentiments that prevail after the election of Narendra Modi as India's prime minister. Since the election of the Nawaz Sharif government, whatever else its deficiencies may be, in terms of relations with India, there has been a consistent reaching out and a clear desire to improve bilateral relations, particularly in terms of trade and commerce. It takes very little to rock the boat of India-Pakistan relations and General Singh would be best advised both, to appraise himself of ground realities, as well as exercising a degree of caution in his public statements that are going to be heard around the world. There are times when it is right and proper for generals to breathe fire; sometimes it is their job. This is not one of them.

Published in The Express Tribune, August 3rd, 2014.

Like Opinion & Editorial on Facebook, follow @ETOpEd on Twitter to receive all updates on all our daily pieces.