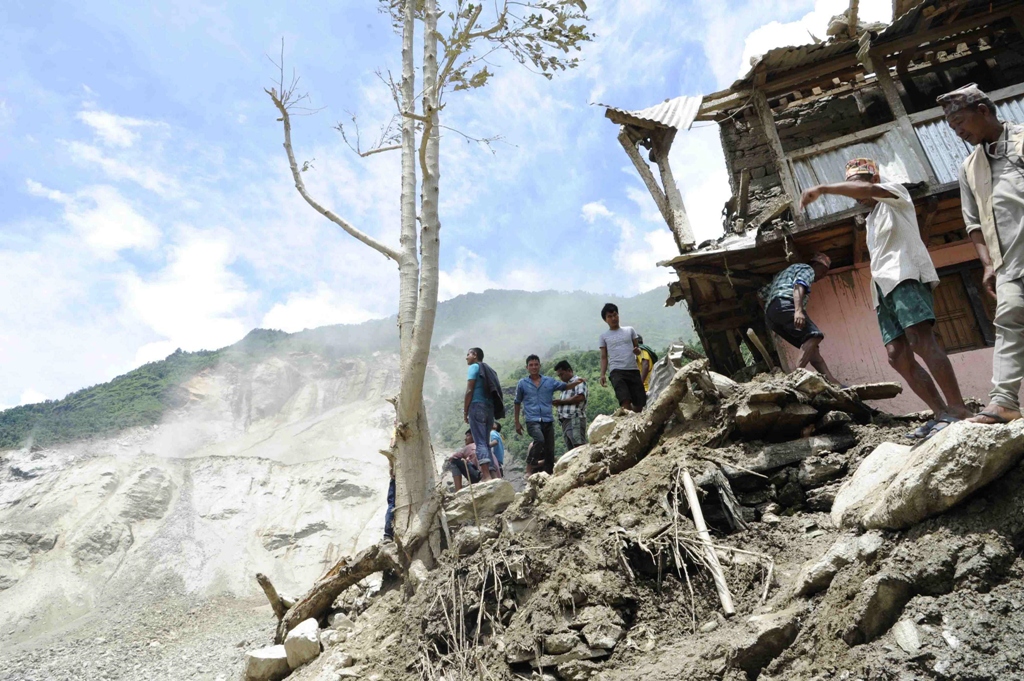 ---
KATHMANDU: A massive landslide triggered by heavy rains in northeast Nepal on Saturday has killed at least eight people, injured 40, buried dozens of homes and stoked fears of flash floods, officials said.

The landslide created a mud dam blocking the Sunkoshi river near Jure in the Sindhupalchowk district, about 60 km northeast of Kathmandu, heightening fears of downstream floods that could reach as far as Bihar in eastern India.

Home ministry officials said eight bodies have been recovered so far from the debris of collapsed houses and search and rescue operations were under way.

Army helicopters have taken seven injured, including a Belgian national, for treatment in Kathmandu, Nepal's army spokesperson, Jagadish Pokharel, said.

The Sunkoshi river is popular for white water rafting, which is not normally done during the rainy season.

Pokharel said soldiers have started opening the dam by setting off two controlled blasts to release water to avoid flash floods.

"It is very serious. We are very much concerned about the consequences if it causes massive floods," he added.

A home ministry official said the foreign ministry had been asked to request neighbours China and India to help open the dam in a controlled way.

"We need logistic supports like equipment to open the dam, expert advice as to how it could be broken down and how to avoid major downstream disasters in case the water gets suddenly released," another home (interior) ministry official, Yadav Koirala, told Reuters.

Nepal has also urged India to remain alert and ready to open the gates of the Koshi Barrage on Nepal's borders in case there were sudden floods, Koirala said.

Death toll may rise

Survivors said the mishap happened while they were asleep.

"Everything started falling all of a sudden. I had not seen such a disaster before," Durga Lal Shrestha, who was injured in the landslide, told Reuters TV from his hospital bed in Kathmandu.

Television channels showed part of a forested hill that collapsed and blocked the river.

Witnesses said mud and rocks came crashing down, blocking the river and creating a 3 km-long artificial lake that has inundated part of the Arniko highway that connects Kathmandu with Tibet.

Residents in downstream villages have been asked to evacuate as the mud dam could collapse at any time, a police officer said.

"The landslide has caused huge damage. We cannot make any estimates of the number of deaths now. We are looking for other people who might be trapped," another police officer, Bharat Bahadur Bohara, told Reuters from the site.

Steep hills and heavy rains are making search and rescue operations difficult, home ministry officials said.

Monsoon rains that start in mid-June and continue through September are crucial for farm-dependent Nepal, one of the world's 10 poorest countries.

Scores of people die every year in landslides and floods caused by heavy downpours.

Heavy rains in June last year caused rivers and lakes to burst their banks, inundating towns and villages and killing thousands in the neighbouring Indian state of Uttarakhand and dozens in the border district of Darchula in west Nepal.