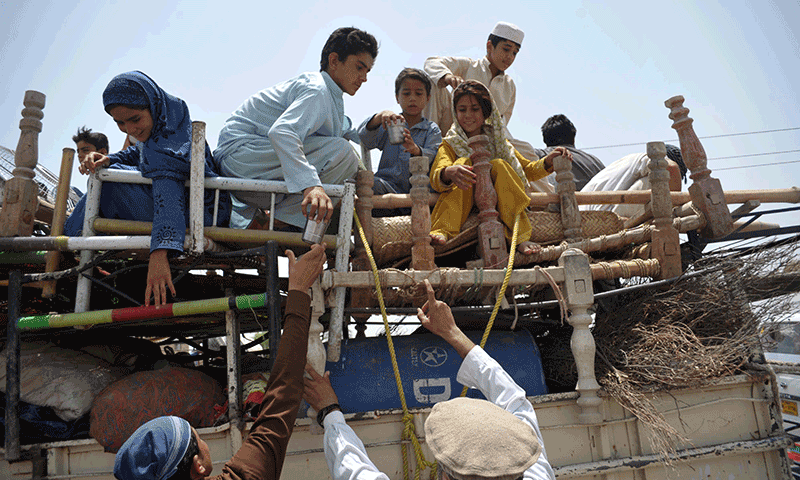 ---
DI KHAN:



Dressed in shalwar kameez and waistcoat and wearing a cap on his head, Malik Muhammad Noor, aged 49, has come a long way – once a tribal elder in his village of Shawa in Mir Ali, North Waziristan, Noor is now a pistol-toting 'watchman'. "I never wished to leave the life I had in my village," he said, "But in this situation, I had to become an internally displaced person (IDP)." He is quick to add, "I did not lose heart. Instead, I worked to become a volunteer for fellow IDPs in Bannu."




Noor says that he was at the ration point set up by officials at Government High School Number 4 in Bannu, queued amongst hundreds of others who were all pushing and jostling at each other, impatient to make their way forward.

"Seeing this kind of lack of discipline encouraged me to come forward and I stood at the main gate to the school and helped security personnel control the crowd," he explained.

As he encouraged his fellow IDPs to be patient, the crowd's anger at the long waits was dispelled. "An army official came forward and thanked me for my help," Noor says with pride. Noor stood at the school's gate from morning until midnight on that day, and he was subsequently asked to help security officials manage the crowds of IDPs seeking relief goods.

"I stand here all day, and I carry a stick with me," Malik says, "Not to beat anyone, but to discipline my fellow tribesmen. It is my responsibility to do what I can for them." He says he is not 'ashamed' or embarrassed by his new role.

"I'm able to talk to the IDPs in our own language, I guide them and tell them how to behave. I'm helping my own people and I am proud to do so. As a member of a tribe, I must do whatever is in my capacity to help however I can and not look to others for help."

Other members of Noor's village joined him, coming together as a group to offer assistance to the IDPs in Bannu. "We help them find shelter, we give help to the old or the disabled, we do whatever we can," Noor explains.

The group meets for consultations before they start their day's work. "If we do not work hard to come out of the difficulty we are in, then who will help us?" Noor said. He says the group has no connections with any government or army organisations, or NGOs.

Noor said that instead of distributing ration bags of flour, sugar and other edible goods among the IDPs, the government should disburse cash.

"Tribal people can purchase these items themselves – standing in line, waiting for distribution of rations only affects their ego," Noor explained.

While he takes pride in his current employment, Noor says he is hopeful that he can return to his village soon. "Once peace is restored to the region, we will go back to our homes," he said.

Published in The Express Tribune, August 2nd, 2014.