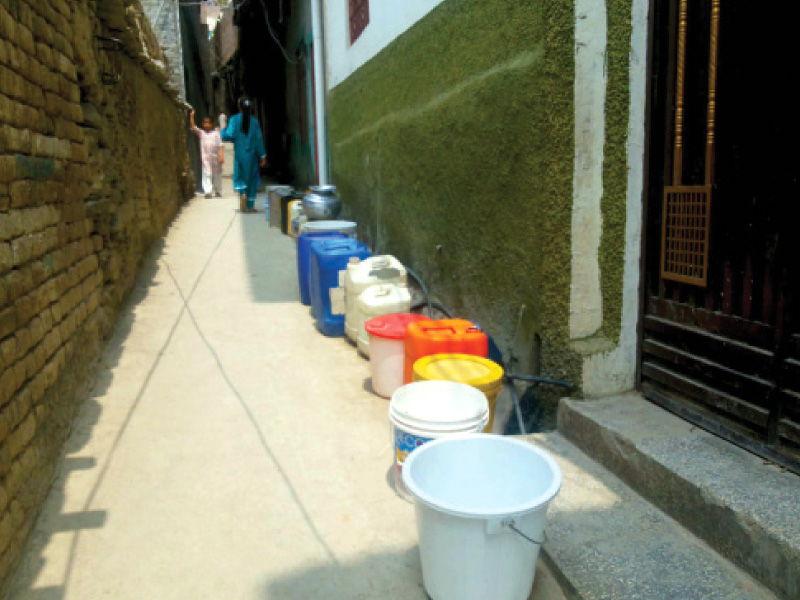 ---
MINGORA:



Residents of Mingora took to the streets on Friday to protest the nearly month-long water shortage in the city.




Carrying water cans, buckets and coolers, protesters marched from Watkey to Mingora city and held a sit-in outside the office of the Tehsil Municipal Corporation (TMC).

According to the protesters, the municipal corporation had stopped the supply of water to their areas and despite several requests, the supply has not been restored.

Ahmad Khan, a resident of Watkey, said, "For the last one month, we have been forced to get water from far-flung areas. Since the distance cannot be covered on foot we have to hire vehicles to carry the water cans to our houses which is draining our savings."

He added that the people of Watkey were disappointed with the Pakistan Tehreek-e-Insaf which had "deceived them in the elections with shallow claims of change".

The protesters chanted slogans against the officials of the TMC, as well as members of the provincial and National Assembly.

To fetch a pail of water

The areas which have been subject to acute water shortage include Malookabad, Rang Mohallah, Sharifabad, Watkey, Saidu Sharif, Faizabad, City Mohallah, Amankot and Gul Kada I, II and III.

The deprived residents have no choice but to collect water for everyday use from other areas.

"There has been no water in my house for a month as the government's pipeline is not supplying any. The place I get water from is two kilometres from here and this is my fourth round today," said Shahim, a young girl carrying a gallon (flask) in Malookabad.

Lights out

The municipal corporation, however, claims that the water shortage is a result of low voltage and severe load-shedding.

An official at the TMC told The Express Tribune that the water pumps cannot run due to low voltage and load-shedding and because of that several areas are facing a shortage. He, however, added the TMC has been sending water tankers to the affected areas to provide some relief.

Published in The Express Tribune, August 2nd, 2014. 
COMMENTS
Comments are moderated and generally will be posted if they are on-topic and not abusive.
For more information, please see our Comments FAQ