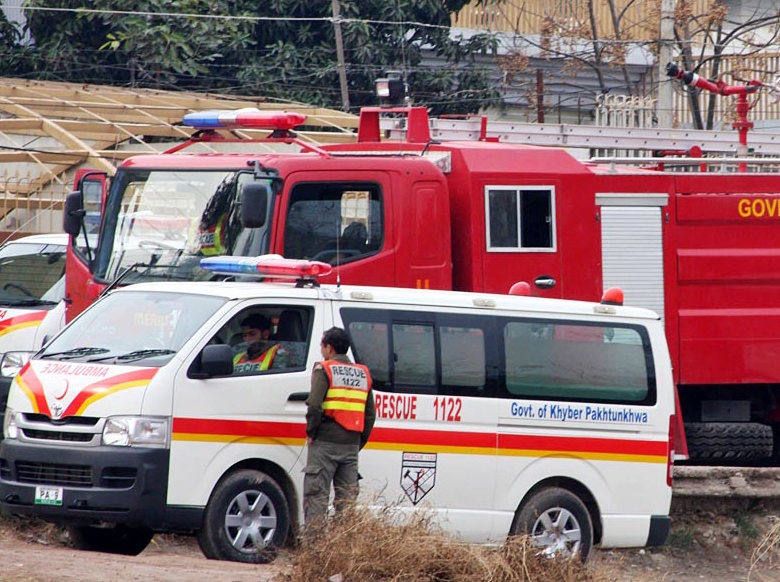 ---
RAWALPINDI: The Punjab Emergency Service (Rescue 1122) Director General Dr Rizwan Naseer appreciated the services of rescue staff with regards to emergency preparedness during the Eid holidays in all districts of the province, said a press release on Friday.

Rescue 1122 Rawalpindi responded to 213 emergency situations and rescued 245 victims during the holidays. Out of a total of 197 emergency calls received by the service, 124 were related to traffic accidents, two to fire incidents and one regarding a drowning. Moreover three calls were crime-related, 61 were medical emergencies and six involved wheeling incidents.




All emergency calls were responded to within an average response time of less than seven minutes in the district.

Emergency vehicles were deployed at sites where Eid prayers were held as well as in sensitive areas.

Trained staff was also deployed to provide immediate pre-hospital emergency cover as emergency officers included trained doctors who supervised all the arrangements.

Only a limited number of leaves of rescue staff were approved and they were assigned special duties to effectively cover large Eid prayer gatherings and to provide emergency services to the people.

In Rawalpindi, more than 400 rescue personnel performed their duties in the district control room and at emergency rescue stations with 14 fully-equipped emergency ambulances, 10 fire vehicles, two special rescue vehicles, one water rescue van and two water bowzers.

Four special mobile posts had also been established for effectively providing medical cover to the public at Ayub Park, Nawaz Sharif Park, Jinnah Park and GPO Chowk Saddar.

Emergency vehicles were also deployed at Children Park Gawalmandi, Liaquat Bagh Park, Rawal Chowk and 22-Number Chungi Tench Batta on the Eid days.

The Rescue 1122 chief appreciated efforts of all rescue staff for their services and for sacrificing their Eid holidays for the safety of the community.

He also requested the public to dial emergency number 1122 with moral responsibility. "Only a timely call can ensure a timely response and rescue in case of any emergency or disaster," said Dr Naseer.

Published in The Express Tribune, August 2nd, 2014.
COMMENTS
Comments are moderated and generally will be posted if they are on-topic and not abusive.
For more information, please see our Comments FAQ