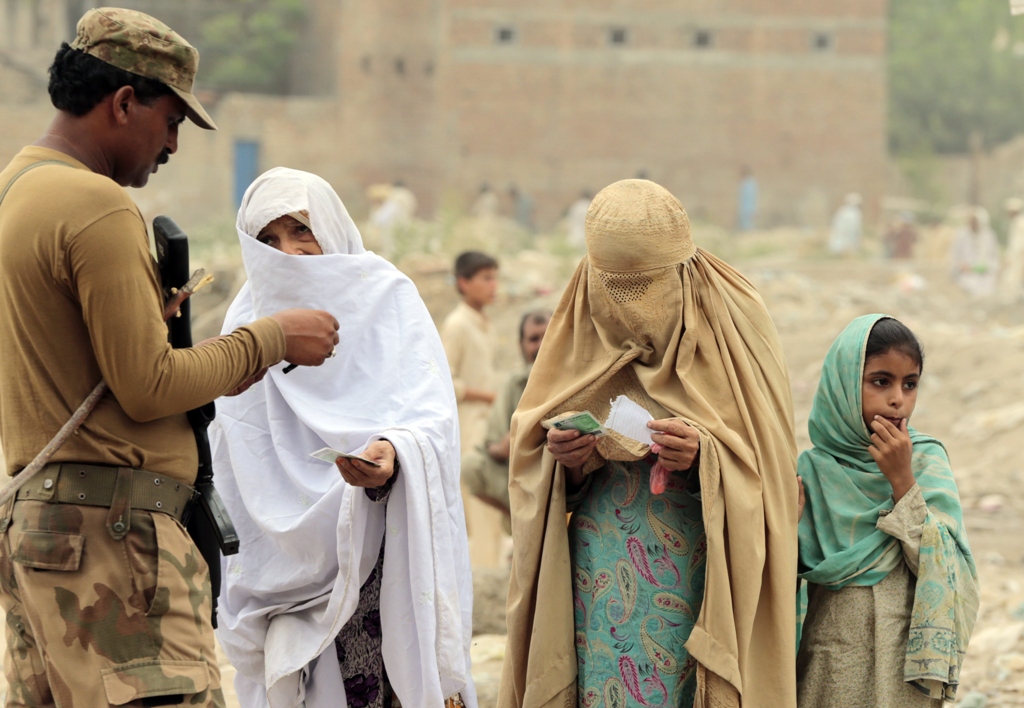 ---
BANNU: Thousands of women displaced by fighting in North Waziristan are struggling to get food and other aid because they lack identity cards and conservative elders have forbidden them from going to distribution centres.

The women are among nearly a million people who registered for aid after the army began an offensive against the Pakistani Taliban in North Waziristan.

The army ordered most civilians to leave before the offensive began in June, and many ended up in Bannu.

No census has been conducted in North Waziristan for years, so no one knows the true scale of the problem. Government figures, however, show almost three-quarters of those seeking aid are women and children.

There's plenty of food to go around, with the World Food Programme (WFP) handing out nearly 5,000 tonnes and many other aid groups active.

But women face two problems: the lack of identity cards and an edict from elders of their Pashtun tribes forbidding them from going out to get aid. Conservative tribal traditions demand women stay at home and men fetch the food.

The same traditions prevent many women from getting identity cards, some because they are not considered the "first" wife of men who have taken two or more wives.

Some families also find the idea of a woman being photographed or fingerprinted for cards highly intrusive, even though the national identity agency runs women-only centres. Others simply lived in areas too remote to get cards.

For now, women and children without male relatives are largely dependent on handouts from neighbours who are themselves dependent on aid.

I have no chance

One woman sobbed behind her veil as she waited outside the main sports stadium in Bannu last week, watching men with wheelbarrows carry out sacks of flour and containers of water.

"They are not letting me in," the woman said. "I have no chance to enter."

The woman, Basmira, had no identity and no male relative. She stood near a cluster of women in all-covering burqas beseeching stick-wielding police and army guards to let them into the stadium.

Another woman, Maimoona, said her husband was killed by a stray bullet three months ago.

"You see those sticks in their hands? They will beat us if we try to go in," said 30-year-old Maimoona, who like many in Pakistan uses only one name.

Two other women said they were also widows and one said her son was a drug addict. A soldier at the gate said women were welcome to go to other distribution sites around the city, but Reuters found that women were also being denied entry at four other centres.

"This lack of ID cards is a major problem for widows, second wives, and many women whose husbands are not here," said Yasmin Akhtar, regional manager for Khwendo Kor, an aid group helping about 1,000 of the women.

Muhammad Abbas Khan, the commissioner for displaced families in Bannu, was exasperated.

"We tried to resist the elders but it was like talking to a brick wall," he said. "This conservative culture overrides religion, it overrides ethics and it overrides human rights."

The government says it will set up a women-only distribution point in the next few weeks but until then, women have to rely on handouts from other hungry families.

That generosity is keeping many people fed at Bannu's Government School Number 3, where hundreds of displaced live in concrete classrooms partitioned by cotton sheets.

Shashparizada, 45, and her co-wife are at the school with their 12 children and husband, a frail 70-year-old with a long white beard.

He lay on a rope bed with a fan nearby, too weak to stand. "He is so old, it is hard for him to wait in line," Shashparizada said. "We do not have ID cards and he cannot go, so there is nothing for us."