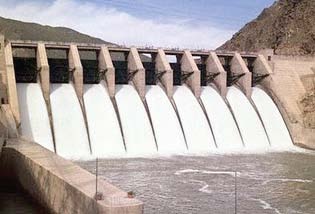 ---
ISLAMABAD:



The Power Development Organisation (PDO) of Azad Jammu and Kashmir (AJK) has caused a loss of Rs400 million to the national exchequer by using dubious processes for issuing the contract for the 48MW Jagran-II hydropower project.




This was revealed in a document presented by the lowest bidder firm Sino-Hydro HrL-JV partners at a meeting of the National Assembly Standing Committee on Planning and Development.

According to the document, the PDO has breached several rules when awarding the contract on July 4. The contract was awarded to CWE/Sachal Joint Venture partner, the second lowest bidder, in breach of due process. The document says that a minority vote was used to determine the outcome and the bidding process prescribed by the Public Procurement Regulatory Authority (PPRA) was flagrantly ignored.

Moreover, the document revealed that while selecting the bidder, the AJK violated Clause 35 of the PPRA rules, which require procuring agencies to announce the results of the bid evaluation in the form of a report and provide justifications for their decision at least 10 days before awarding the procurement contract.

The PDO adopted a new and highly questionable system of 'voting' while deciding this matter, the document said. Usually, boards of government departments do not take such decisions through the voting process. Conversely, the decisions are taken according to the rules regarding the bid evaluation process determined by the Pakistan Engineering Council (PEC), PPRA and the guidelines of the loan-giving agency.

A decision to award a contract for development projects should never be based on the overall strength of the member of the development committee.

The document added that AJK government seems to have treated the project as a legislative business which is not only unique but also  an unwarranted and illegal way of deciding the fate of a development project.

It was also mentioned in the document that the PDO has also ignored the directives of the ministry of Kashmir affairs. The ministry is the principal accounting authority for the project. Recently, its secretary had been appointed as the chairman of the steering committee to ensure that all regulations were adhered to.

The ministry had directed the PDO to set up a review committee to deliberate on grievances of the affected firm. However, the document revealed, that this has not been implemented.  Furthermore, the document said that the views of the minister in charge of power in AJK and the federal nominee on the PDO Board were also ignored.

Published in The Express Tribune, August 1st, 2014.
COMMENTS
Comments are moderated and generally will be posted if they are on-topic and not abusive.
For more information, please see our Comments FAQ