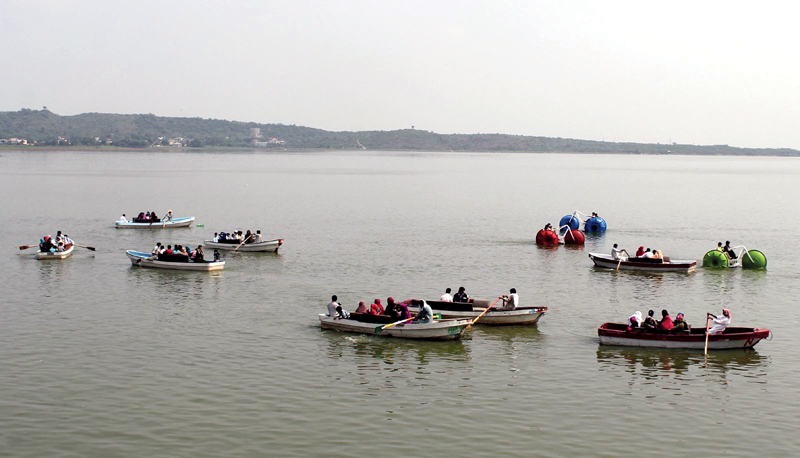 ---
ISLAMABAD: Residents clearly kept security worries aside while participating in Eid celebrations in the twin cities. Despite the fact that army has been called out to ensure security in Islamabad due to terrorist threats, capital residents celebrated the three days of Eid with traditional zeal and fervour.

Picnic spots remained jam-packed with visitors on all three days of Eid. Rain kept the temperature low and added colour to the festive atmosphere.




A large number of families arriving from cities such as Faisalabad, Gujranwala, Gujrat and Lahore visited picnic spots in the federal capital and enjoyed the pleasant weather. Some also went further to visit hill stations such as Murree.

Families decked up in new clothes were seen cruising around in cars in the twin cities. Many were seen stuffing themselves with delicious cuisines at various restaurants and fast food outlets.

"Eid is an occasion which provides us with an opportunity to keep all worries aside and enjoy as much as possible," said Sabeen Imam, who came to a restaurant in Blue Area with her family on the second day of Eid.

Talking to The Express Tribune, she said that in the past few years the security situation had become a major challenge for the country therefore such festivals helped her to overcome all the stress and worries even if for few hours.

Hidayatullah, a salesman at a garment shop in Jinnah Super said that over the past few years many people avoided to go to commercial areas due to security concern.

He said, however, this year the market was jam-packed on the chand raat as well as the food outlets on all three days of Eid which was a good sign.




Talking to The Express Tribune, ITP spokesperson Naeem Iqbal said that a total of 4,500 police personnel including 532 Islamabad Traffic Police (ITP) personnel and Rangers were deputed in the capital from chand raat till the third day of Eid to maintain law and order situation.

He said that no incident of terrorism had been reported in the city during the Eid days.

Iqbal said police commandos were deployed around sensitive locations and open areas where Eid prayers were held.

"ITP launched crackdown on Eid against public transporters who were overcharging commuters and recovered over Rs50, 000," he said.

Asmatullah Junejo, ITP SSP said that during the three days of Eid around 300,000 vehicles from various parts of the country entered Islamabad out of which 85 per cent moved to Murree.

Meanwhile, rest of the vehicles moved towards other picnic spots like Daman-e-Koh, Pir Sohawa, Rawal Lake View Park and others, he said.

"On the second day of Eid, around 20,000 vehicles got stranded at Daman-e-Koh which resulted in massive traffic jam for one and half hour. Moreover, 87,000 vehicles moved to Murree out of which 31,000 returned back to Islamabad on the third day of Eid," Junejo said.

He was of the view that the major reason behind traffic jams both at Daman-e-Koh and Murree was that people got their cars filled with CNG and did not carry petrol with them.

"Many cars' engines, running on CNG, failed while going uphill, which resulted in massive traffic jams. Considering the situation all the ITP personnel were directed to make public announcements at various spots asking people to carry petrol with them," said Junejo.

He further said that during Eid, Rawal Dam was closed for the public due to security reasons, which led people who wanted to spend their day near water with Lake View Park as a backup option.

"Lake View Park has a parking capacity of 1,200 cars. However on Eid around 20,000 vehicles visited the place every day, creating serious traffic jams on Murree Road. Around 10,000 cars were diverted by the ITP," Junejo said.

He further said that metro bus construction work going around the city also caused traffic jams.

Major roads such as the 9th Avenue, Peshawar Mor, Jinnah Avenue were completely closed for traffic. Vehicles were diverted to Margalla Road, which lacks the capacity to handle heavy traffic, Junejo said.

Published in The Express Tribune, August 1st, 2014.
COMMENTS
Comments are moderated and generally will be posted if they are on-topic and not abusive.
For more information, please see our Comments FAQ