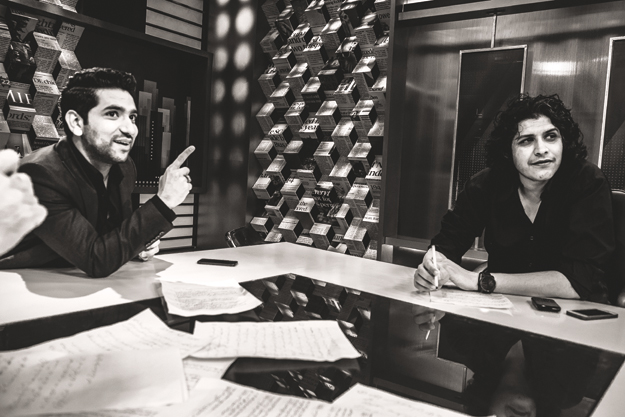 ---
It is hard to have a serious conversation with people who make a living out of comedy. Even if you manage to break the ice, it still takes time to figure out whether you are being picked on or if you have finally cracked the proverbial code. I faced the same dilemma in my bid to understand the comic trio who have perhaps understood and harnessed the potential of satire to its fullest for a country like Pakistan — where the most powerful stories can only be driven home through fictional characters. Or cloaked under a good old joke.

From ruling presidents to average disgruntled voters, anyone who has played a role in shaping the social and political landscape of the country, has found themselves at the receiving end of the comical cannon that comprises Mustafa, Murtaza and Faisal Chaudhry. They have also given the audience super hits like the Banana News Network (BNN), The 4 Man Show and now Media Azaad Hay.

But as the lights go off and the three men slip out of character and slide back into reality, you get a glimpse of why they might be worth more than just a few laughs.

Two's company, three's a riot

Mustafa Chaudhry can be anyone you want him to be. All you need to do is combine a few masterful strokes from the makeup artist with Mustafa's wit, comic timing and selection of jokes. And perhaps, the fact that he has spent most of his life in vastly diverse places such as Kashmir and Karachi has a huge role to play in the variety of characters he can mimic.

"In Kashmir, every jawaan will always have a newspaper in his hand and an opinion on every political issue in this world," he says. "No matter how naïve it may sound, you'll see him wearing a shalwar kameez with a waist coat and talking about current affairs." In Karachi, on the other hand, people may stick to a single point of view but the city has enough people to do justice to opinions from every corner of the world.



Mustafa Chaudhry  has mimicked countless celebrities and politicians over the years. Here, he gets into gear to play Qaim Ali Shah. PHOTO: ESSA MALIK




"I once met a guy from Aqasa community in Karachi. I was so shocked to hear the name that I thought he was joking but then I realised it's Karachi, one shouldn't be surprised even if he encounters an alien here," recalls Mustafa.

It was only a matter of looking at everything in Karachi from a Kashmiri point of view and everything in Kashmir from a Karachiite's perspective that the jokes started falling into place. Obviously there were times when no one found him funny but that was also the time when the team discovered the reservoir of jokes that Pakistani politicians had to offer. Hence, came satire.








Mustafa Chaudhry and Murtaza Chaudhry on the set of Media Azaad Hay. PHOTO: ESSA MALIK







Till date, Mustafa has adorned hundreds of get-ups — from easy-to-mimic characters such as Hina Rabbani Khar to the relatively flat-paced ones such as Arsalan Iftikhar — the responses from both, the audience and the subjects under scrutiny has been great. Generally, political figures do not take offence to these things and are a better sport than most showbiz celebrities but with time they have also started treating mimicry as another way of staying relevant.

"Some of the political figures insist on being a part of the show because they enjoy being picked on by us," he adds with a smile. "I totally respect their attitude. After all it takes a lot to get mocked on national television." One incident in particular that shocked Mustafa, however, was the unexpectedly pleasant call from Maulana Abdul Aziz right after they imitated him for a show on the Laal Masjid operation.

"He called me and said 'I really enjoyed the way you copied my style and antics, it was hilarious,'" he shares. "For a moment, I was surprised but then he also told me how I could alter my voice and facial expressions to make the mimicry more plausible."

But few know the extensive homework that goes into preparing for an episode. Everything from hand gestures to how a character twitches their eye is scrutinised. Pictures are mulled over and YouTube videos are replayed multiple times in order to replicate each character's idiosyncrasies as closely as possible. Today, an hour before the shoot, Mustafa calmly flips through Qaim Ali Shah's most defining moments on his smartphone, while the make-up artist vehemently stuffs his wild, curly mane under a nude skull cap to make it look like the senior politician's glistening dome.

And while Mustafa literally gets into character, Faisal Chaudhry, the writer behind the comic sketches, gives them their voice.









"We think about how a particular politician would react in a really awkward situation. Like imagine how Bilawal would behave agar uskay ghar ki paani ki motor kaam nahin kar rahi ho (if the water pump at his house stops working)," Faisal elaborates on his writing process in a quintessential Quetta accent — a mixture of Pushtoon and Brahvi — that immediately gives away his whereabouts.

"The humour in Quetta is of a very physical nature and can only be understood in the colloquial style and language. But if you somehow manage to grasp it, it will crack you up," he says before pausing to greet a friend from Peshawar in Pushto. "So the deal was to package that brand of humour for a more cosmopolitan audience." Combine that with the political circus in the country at any given time and you have a winning formula.





Murtaza Chaudhry and Faisal Chaudhry brainstorming after a shoot. PHOTO: ESSA MALIK




Even though Faisal was a late addition, his arrival added a different dimension to the duo who had somewhat become restricted to making videos for underground bands by then. Following their successful appearance on an Eid show on Aaj TV in 2006 which was the trio's first project together, Faisal  went on to become a permanent part of the group.

But that does not stop Murtaza Chaudhry, also known as Khalid Butt, the final and probably the most significant part of this group, from mocking Faisal for his small-town antics, especially his shyness around the ladies. Something Murtaza can do safely since he has lived long enough in Karachi and spent time in the entertainment industry to be considered an insider now. But tough choices were made and several bridges burnt to get him to this point.

"My parents never knew that I was going to the Karachi School of Arts. They thought I was studying elsewhere and to fool them, I had to do a lot of dodging," recalls Murtaza. "Had I not succeeded in the entrainment business it would have been very difficult to justify all the risks."

And risks is something he took plenty of. Abandoning his arts education midway, he chose to pursue his passion for photography and storytelling and assisted directors Ahsan Rahim and Amna Khan. After spending a year and a half of hanging around on the sets of different music videos, commercials and other productions trying to get a grasp of things, Murtaza realised that this was not going to get him too far.

"It didn't really work out for me because I wanted to learn the execution of new ideas, and storytelling and learning the hard way wasn't taking me any closer. So I called it quits." In retrospect, the decision proved to be one of the smarter ones as he eventually landed in front of the camera and the rest is history.

Much more than a laughing stock

Even though they are currently considered one of Pakistan's prime satirists, the trio is not comfortable with being known as just that.

"There are no two ways about the fact that we were recognised because of satire and we will continue to be known for that. But at the same time there is a lot more to us than just comedy," says Murtaza on a rather serious note. This is perhaps the reason why their next big project is a feature film — a Persian and Urdu social drama, based in Marriabad, Quetta, where the lives of three different individuals get intermingled in a series of tragic events. The film, which has been written by Faisal and directed by Murtaza, is currently in the post-production phase and will be submitted at a few international film festivals before a commercial release in Pakistan.




As the interview comes to an end, Mustafa adds almost defensively, "You know when the three of us are together, we discuss everything from history to philosophy to religion but unfortunately it never gets translated on-screen. We have to give people what they want." And just like that, a few seconds later, the conversation steered back to the ways of keeping a Saint Bernard dog that is accustomed to cold climates, in a hot temperate zone like Pakistan. "It's simple. You wear an Eskimo's gear around the dog. It automatically convinces him that he is in a cool place," says Murtaza as the three roar with laughter. Maybe sticking to the jokes for now isn't such a bad thing after all.

Rafay Mahmood heads the life and style desk at The Express Tribune. He tweets @Rafay_mahmood 

Published in The Express Tribune, Sunday Magazine, August 3rd,  2014.
COMMENTS (7)
Comments are moderated and generally will be posted if they are on-topic and not abusive.
For more information, please see our Comments FAQ