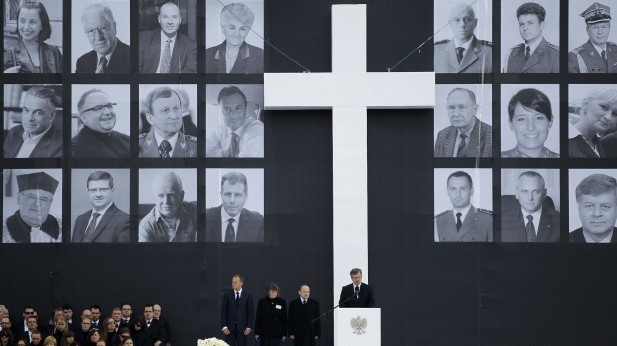 ---
WARSAW: Poland paid an emotional tribute on Saturday to President Lech Kaczynski, his wife Maria and 94 other mostly senior political and military officials killed in a plane crash one week ago in Russia.

Up to 100,000 mourners, many clutching red-and-white national flags threaded with black ribbons, packed into the vast Pilsudski Square in central Warsaw to commemorate the victims of the country's most devastating accident since World War Two.

"They all had their dreams and hopes for the future of their homeland. This is a serious test for us to understand those hopes well and take them into the future," Prime Minister Donald Tusk, who had been a political rival of Kaczynski's, told the crowd.

"This is the most we can do for them. We are here to remember them. Poland is here to remember them. We will not forget," Tusk said.

Behind him on the podium a tall, white cross rose up between two large black panels bearing the portraits of all the dead, whose names an actor read out one by one.

Kaczynski's twin brother Jaroslaw, a former prime minister who now heads Poland's main opposition party, sat at the front of the mourners with other family members, including the president's daughter Marta, 29. Kaczynski had two grandchildren.

Saturday's commemoration, which included a three-gun salute and a Roman Catholic requiem mass, came one day before the planned burial of Kaczynski and his wife in the crypt of Wawel cathedral in the ancient capital of Krakow in southern Poland.

World leaders including U.S. President Barack Obama were scheduled to attend the Wawel funeral. But a huge volcanic ash cloud drifting across Europe from Iceland has closed Polish airports and it was unclear how many would manage to come.

Poland's meteorology institute said the ash cloud covered all of Poland's territory on Saturday, but would partly disperse by early Sunday.

KATYN

Kaczynski and his entourage had been heading last Saturday to Katyn forest near Smolensk in western Russia to commemorate the 70th anniversary of the massacre of 22,000 Polish officers and intellectuals by the Soviet secret police.

The crash has stunned Poland. Tens of thousands lined the streets of Warsaw for the return of the coffins from Russia and the area in front of Kaczynski's palace in Warsaw's picturesque Old Town has been transformed into a shrine to the dead, bedecked with candles, flowers, crucifixes and national flags.

Poland's acting President Bronislaw Komorowski said the tragedy had united Poles of all political beliefs and he also thanked Russia's leaders for their close cooperation immediately after the crash and for their gestures of solidarity.

Poland has long had a difficult relationship with Russia, its communist-era overlord, but Poles hope their second Katyn tragedy may bolster a cautious rapprochement begun by Tusk.

Last Sunday, in an abrupt change of tack, Moscow allowed for the first time a leading state channel to air Polish director Andrzej Wajda's harrowing film "Katyn" that chronicles the 1940 massacre. For decades until 1990, Moscow had denied Soviet responsibility for the murders, blaming Nazi Germany instead.

"It has become known in Russia that (Kaczynski's entourage) were headed to Katyn on a pilgrimage of truth, in defence of a truth, the voicing of which had been punishable by oppression and jail. That truth has now triumphed," Komorowski said.