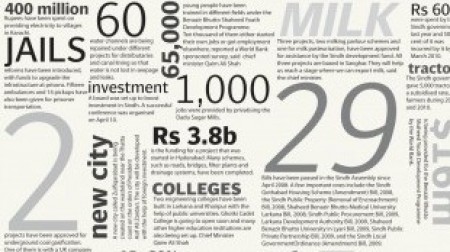 ---
KARACHI: The Sindh Assembly session marked on Friday the end of the provincial government's two years in office.

Sindh Chief Minister Syed Qaim Ali Shah reviewed the work done by his government in its term, sharing a plethora of figures and projects with the House. He called the National Finance Award his government's achievement along with the federal consensus on the 18th Amendment.

The litany of projects completed and those still underway continued for hours and included education, agriculture, transport, water, loans, women empowerment, housing, health and urban planning.

However, one thing was still missing from the chief minister's comprehensive, and optimistic, overview of his government's progress: minorities. Much to the dismay of the legislators elected on minority seats, there was no mention of them and what was done for their empowerment in the 18-page progress report, which was the script for the chief minister in Friday's session.

"We [religious minorities] have been given equal rights in the manifesto of our party, whether it is for jobs in police, foreign services, armed forces or other departments," said an MPA of a ruling party on conditions of anonymity, "You could tell [how much has been done for us] just by hearing the CM's speech which had nothing about minorities."

He said that the five per cent job quota was not being implemented and that the government was persistently ignoring the issue. "Our prime demand is to introduce a law on forced marriages and conversion of religion. We do not object if any girl belonging to the minorities gets married to a Muslim boy, if she does it out of her free will. But it is injustice if our daughters are kidnapped from our houses and forced to convert," he said.

Mukhi Lok Chand, a Hindu community representative who lives in Larkana, said that Hindus have been living in fear since minorities have become easy targets for criminals. According to him, six girls were kidnapped and raped during the last two months in Sindh.

"A woman from Umerkot was kidnapped and raped by the area's landlord," he told The Express Tribune. "She ran from one official to another for justice but to no avail." Due to the continuing victimisation, 71 families belonging to the minorities moved from Umerkot to Mithi, added Chand. Resolution A joint resolution was also tabled in the session to support the 18th Amendment that was passed by both the National Assembly and the Senate.

When the chief minister's speech ended, senior minister for education Pir Mazharul Haq asked the speaker to allow them to present the resolution although the agenda had been set at the chief minister's speech.

Speaker Khuhro suggested the issue be raised on Monday because there was not enough time to discuss it properly but the education minister persisted. Other members who tabled the resolution were Murad Ali Shah, minister for irrigation, the MQM's Sardar Ahmed, Opposition leader Jam Madad Ali, Rafique Engineer and minister for katchi abadis.
COMMENTS (1)
Comments are moderated and generally will be posted if they are on-topic and not abusive.
For more information, please see our Comments FAQ