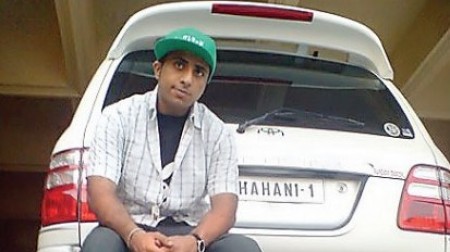 ---
KARACHI: The Shahani-Dhedhi family conflict took a turn for the worse on Friday when the police attempted to arrest Chaakar Khan Shahani's son in a raid on their house.

One security guard was killed and another was injured.

A special team from the Darakhsaan and Clifton police raided the house located on 29th Street, Khayaban-i-Shamsheer, after receiving a tip-off that his son Peer Muhammad Shahani was present. Peer Shahani is the main accused person in the killing of a guard with the Dhedhi family.

"However, they managed to escape," said SHO Darakhshaan Haji Sanaullah while talking to The Express Tribune.

The nephews of well known stockbroker Aqeel Karim Dhedhi were allegedly attacked in Clifton last week. A friend of Dhedhi's nephew, Ali Shah, and his security guard were killed and Faizan and Akbar Dhedhi were injured. The Dhedhis identified five men - Saifullah Waraich alias Mola, Peer Muhammad Shahani and Nadir Mohammad, both sons of Chaakar Khan Shahani, Waheed Rajar alias Sunny Rajar, Mobeen and Manoj. Sunny, Manoj and Pir Shahani's guards have been arrested. The police had earlier on arrested Chaakar Khan Shahani but he was later released on bail by the Sindh High Court.

The Darakhshaan police said that the raid took place at 3 am with five mobile units. The team was headed by ASP Darakhshan Afnan Ameen and included SHO Clifton and Darakhshaan. Investigation Officer Sabz Ali Khan accompanied them.

The Shahanis have, however, contradicted the police's version. "Around 20 gundas attacked our home early in the morning," Lal Bux Shahani told The Express Tribune. "One of the guards was killed in the attack and one was injured." He said that the residents of the house were asleep when the attack took place.

The body of guard Ghulam Mustafa has been taken to Dadu.

Clifton SHO Yasin Gujjar contradicted Lal Bux Shahani's account. "It was a raid conducted by the police. No one attacked their house," he maintained. "When the police team reached the main gate of the Shahani house, it was welcomed with bullets." The crossfire did not spare the neighbouring homes.

The boundary walls of the houses right in front of the Shahani residence has 13 bullet marks. Rooms on the second floor of the Shahani residence also bear marks. The police raided the house from two sides. "I do not know what exactly happened," said Junaid, a housekeeper for the residence in front of the Shahanis. "But early in the morning we heard sounds of firing. Our gate received two bullets. We did not dare come out." He said that the crossfire continued for at least 40 minutes.