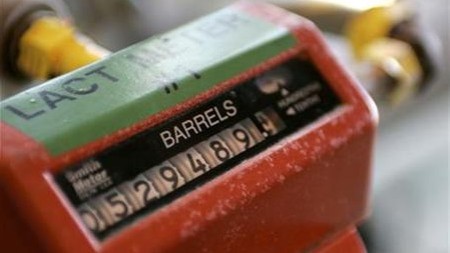 ---
LONDON: World oil prices fell sharply on Friday, pressured by energy demand concerns, weak US economic data and a strengthening US dollar in pre-weekend trade, analysts said.

New York's main contract, light sweet crude for delivery in May, slid 1.43 dollars to 84.08 dollars a barrel. Brent North Sea crude for June was down 1.06 dollars at 86.53 dollars per barrel. The May contract had expired on Thursday after hitting 87.58 dollars -- a level last seen on October 7, 2008.

"The price of oil pulled back (on Friday) as concerns surrounding demand reared its head once again," said analysts at trading house ODL Markets in a research note to clients. Crude futures had ended mixed on Thursday after the prior day's strong rally as traders digested a fresh batch of economic data in the United States, the world's biggest energy consuming nation followed by number two China.

Official data showed on Thursday that the US saw new claims for unemployment insurance benefits unexpectedly rose last week. Initial jobless claims totalled a seasonally adjusted 484,000 in the week ending April 10, surprising most analysts who had forecast new claims would fall by 440,000. "The surprisingly weak initial jobless claims furthered the school of thought that we still need to remain cautious about the strength, and indeed the validity, of the recent (oil price) gains," added ODL analysts.

The euro, meanwhile, extended recent losses against the dollar on Friday on intensifying worries over Greece's debt problems as the Greek prime minister set the stage for a request for emergency loans, analysts said.

Crude prices tend to fall as the dollar rises, as a strengthening greenback makes the dollar-priced commodity more expensive for buyers using weaker currencies, denting demand. Oil began this week on a downbeat note, falling on Monday under pressure from mediocre demand in the United States. The market extended losses on Tuesday as the International Energy Agency warned about potential risks to the economic recovery posed by high energy costs.

The IEA on Tuesday revised up its forecast for global oil demand in 2010 by 30,000 barrels per day owing to unexpectedly strong economic activity in the United States, Asia and the Middle East. However, the IEA also warned in its latest monthly report that oil prices above 80 dollars a barrel could hamper economic recovery.

Crude prices then rebounded sharply on Wednesday after five successive sessions of decline after an unexpected drop in US crude stockpiles that suggested strengthening demand. The US Department of Energy said crude inventories dropped by 2.2 million barrels last week, confounding analysts' forecast for an increase of 1.1 million barrels. Also on Wednesday, the OPEC producers' cartel held steady its forecast for modest growth in world oil demand this year, noting uncertainty about the pace of global economic recovery.

Oil meanwhile found limited support from strong Chinese economic growth data. Official data showed Thursday that the Asian powerhouse economy grew at a red-hot 11.9 percent in the first three months of the year. However, pressure is growing on Beijing to raise interest rates and loosen currency controls to cool the booming economy.