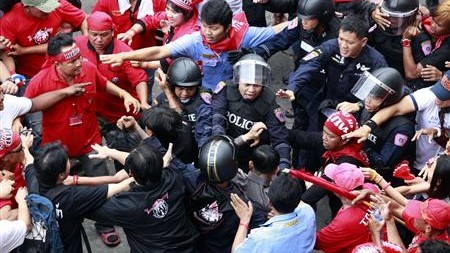 ---
BANGKOK: Thai Prime Minister Abhisit Vejjajiva on Friday made his army chief the head of national security in a bid to involve the military as anti-government protesters massed in the streets calling for his downfall.

Army chief General Anupong Paochinda will replace Deputy Prime Minister Suthep Thaugsuban, Abhisit said, admitting that efforts to rein in the protests had failed six days after violent clashes killed 24 people.

"Brothers and sisters, I want to insist the government is going forward to solve the problem that we know brings sorrow to Thai people," Abhisit said in a televised address delayed from early afternoon.

"Many operations have failed because there has been a congregation of many people which presents obstacles and limitations to work of security forces ... Sometimes we have to be patient and sometimes we have to accept the impact of security operations."

The move comes after a failed attempt, ordered by Suthep, to arrest red shirt leaders on Friday, another embarrassing setback for the authorities after last week's failure to clear a protest site in the old part of the city.

But it appears to be more about getting the army in, rather than shunting Suthep out.

"The main message is the government is going to keep going while trying to make this into a security problem rather than a pure political problem," said Sombat Thamrongthanyawong of the National Institute of Development Administration. "And he (Abhisit) is emphasizing that it is the army's problem as much as it is the government's."

Abhisit promised to crack down on "terrorism," which the government blames for Saturday's killings, as well as enforce the state of emergency announced on April 7.

Ramkhamhaeng University political scientist Boonyakiat Karavekphan said the appointment would prevent Anupong being aloof.

"It should help tackle the problem that the government calls terrorists, some of whom are in the army."

Red shirt protesters have gathered at a hotel and shopping center in the middle of the city, now the main protest encampment which they have occupied for a month.

Abhisit has been absent from the public eye since Monday.

At least 24 people were killed and more than 800 wounded in Saturday's clashes, Thailand's worst political violence since 1992, which only appears to have hardened the four-year political impasse and raised the possibility of more bloodshed.