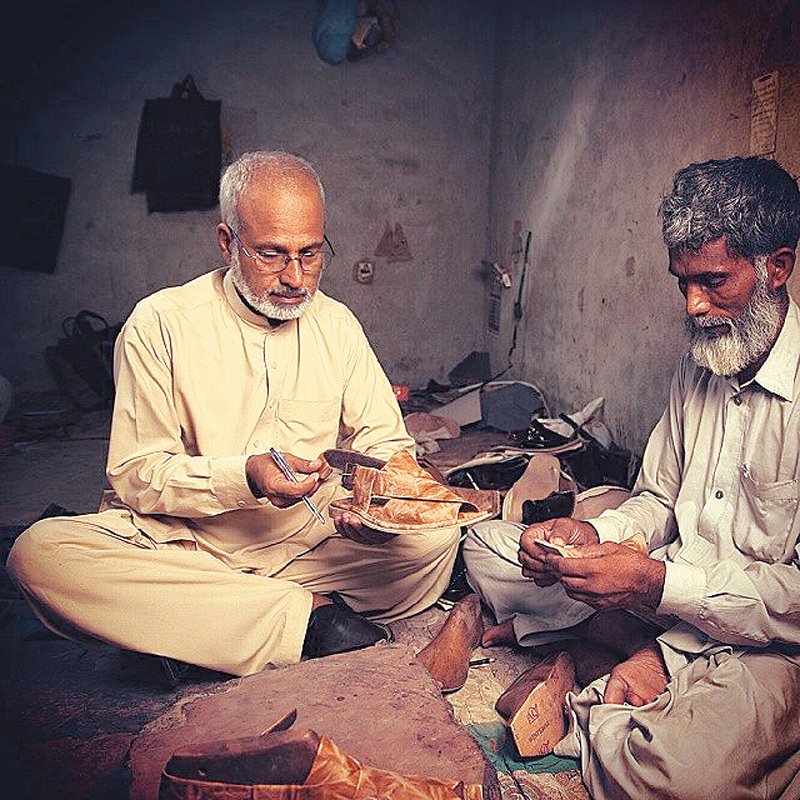 ---
LAHORE:



Waqas Ali and Sidra Qasim of Markhor have taken Pakistani handmade leather shoes for men to the international markets. The brand, previously known as Hometown Shoes, designs and manufactures leather shoes and sells them online.




"I was introduced to the internet in 2007, when I moved from Okara to Lahore for college," says Ali. "It was fascinating for me to see how technology had changed society and connected the world."

Internet startups and success stories float all around us, but the way these two students used it to benefit their local society is inspirational. Back in 2010, when Facebook was banned in Pakistan, Ali found himself sitting in a panchayat in his village, where a local shoemaker Mohammad Husain suggested that the villagers protest against Facebook for being against Islamic teachings. "I was taken aback by the ignorance of people and spoke up in favour of the website and showed them how Facebook was, in fact, helping young people start up their businesses," says Ali. "When I found out that Husain was a shoemaker it got me thinking that maybe I could try and sell his shoes online for him and show people that technology is, in fact, beneficial."




With no funds and just a dream in hand, Ali approached Qasim, his family friend, to join him as a partner for this venture. "My parents cut me off financially when they found out that I wanted to start up a business," says Qasim. The duo knew that if they worked hard enough they would be able to make a solid business out of selling good quality shoes to the international market. They took up jobs to support themselves in Lahore and raise funds for their business. They also entered into various competitions to see if they could win a grant and in September 2011, they won $10,000 by Pasha Social Innovation Fund, a programme sponsored by Google.

Now they could buy raw materials and supply them to Husain's cobbler shop: however, things still weren't easy for them. They were living in hostels that were far away from each other and they had no funds for office space.

For three months they held meetings with suppliers at a KFC branch in Lahore and in June 2012, Markhor launched its website. "We were thrilled when the first order came in and even more thrilled to see that it had come in from France for our Peshawari chappal," says Ali. "Within six months the company was selling goods in 17 countries.

"One day we got an order from Hong Kong. We were interested in knowing who it was, so we searched for the person and found out that it was one of the executives of Google," says Ali. "We freaked out a little, as we didn't want our product to fall short of his expectations. Eventually, we sent the shoes and decided to take whatever feedback we got as constructive criticism," he recalls.

Stars aligned and the order was successful, soon he came to Pakistan to start up a programme with the Punjab Government in collaboration with Google and featured Markhor as their Innovation Hero.  In October 2012, Plan9 (an organisation that helps small businesses grow) opened up and selected Markhor as their first team.

When Paul Smith came out with their version of the Peshawari chappal, there was an outcry in the country that he had copied our local shoe. For Markhor, it was a matter of pride that an international designer wanting to pick up local Pakistani designs. They have invited Paul Smith to come visit them and see the craftsmanship of  their workers and are hoping that he will come one day.

"When you wear a handbag that says Milano, you just know that its quality is top notch. We want to change the way people see 'Made in Pakistan'," says Ali. "Local shoe manufacturers and retailers are not striving to manufacture products that are at par with the rest of the world."

Markhor is the national animal of Pakistan and an endangered species. "We decided to change the name because we think of our product as iconic and endangered as the animal.

Published in The Express Tribune, June 20th, 2014.

Like Life & Style on Facebook, follow @ETLifeandStyle on Twitter for the latest in fashion, gossip and entertainment.