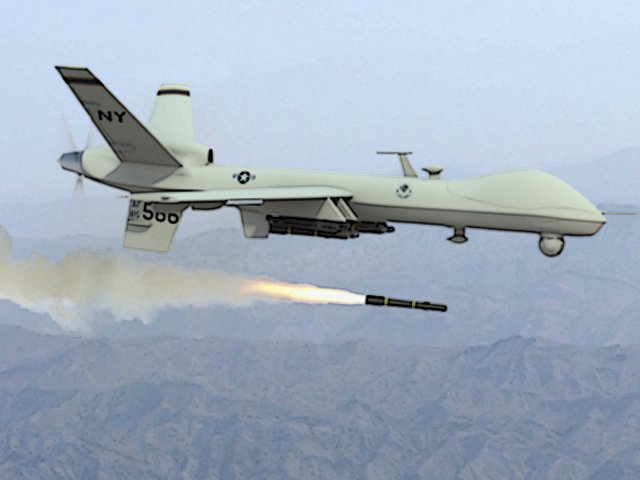 ---
June 17, 2004. A missile fired from a weaponised unmanned aerial vehicle targeted Taliban leader Nek Mohammad in Wana, South Waziristan. A decade after the first drone missile strike in Pakistan, the platform has come to signify most of US' war in the region. 

That strike 10 years ago had claimed the lives of six people, including Nek Mohammad.

According to the The Bureau of Investigative Journalism, since June 2004 there have been a total 385 drone strikes inside Pakistan. The strikes have killed approximately 2,306-3,735 people.

The CIA campaign, along with its claims of important targets such as Taliban commanders Nek Mohammad and Hakimullah Mehsud, has sparked anger in Pakistan and in many quarters of the world about its collateral damage and of jurisdiction to use the lethal weapon.

Of the total people killed in the 385 strikes, between 416-957 were reportedly civilians. Of these, 168-202 were children.

During the tenure of former US President George W Bush drones struck 51 times in Pakistan. But the figure multiplied almost seven fold during the tenure of his successor, Barack Obama, who is said to have signed off for a total 334 drone attacks so far.

While the US has not shied away from using the platform in other theaters such as Afghanistan, Yemen and Somalia, the manner in which it concentrated attacks in Pakistan for the longest time, have made it the focal point for rights activists to hold the unbridled campaign to account.

The attacks have divided people along the lines of those who deem it as an important platform to tackle an imminent threat, to those who are seeking justice for the extrajudicial assassination of their family members in almost every court of the world.

The subject has drawn thousands of words in newspaper columns, hundreds of minutes of documentaries, even a giant installation of a girl child at the site where a drone missile killed her.

A UN resolution "Protection of human rights and fundamental freedoms while countering terrorism" was passed in December 2013, calling for regulating the use of remotely piloted aircraft against suspected terrorists and urging US to ensure that any measures taken or means employed to counter-terrorism, including the use of remotely piloted aircraft, complied with international law. This seems to have done little to dissuade the US campaign of using drones to strike at their targets.

The latest strikes on June 11 and 12, which occurred after an unusually long gap of almost five and half months, left at least 16 people dead. The strikes were a reminder that this war is far from over.