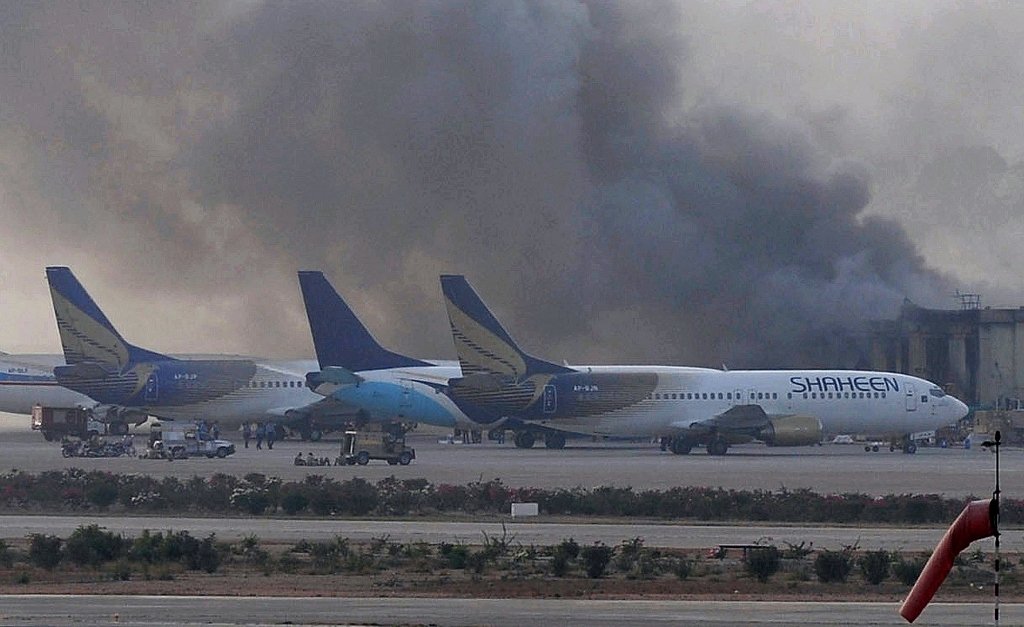 ---
While it is welcome, and many will also say overdue, the premier's go-ahead to the army to take 'appropriate action' against the Tehreek-e-Taliban Pakistan (TTP) puts forward a number of questions. The go-ahead came during a hurriedly-called meeting following the assault on the country's busiest airport — a huddle that included Prime Minister Nawaz Sharif, Army Chief General Raheel Sharif, Interior Minister Chaudhry Nisar Ali Khan as well as other key generals (but in which the chief of the Inter-Services Intelligence was missing, because he was out of town apparently). During the meeting, the army was reportedly also given the go-ahead to use 'whatever means at their disposal to pre-empt further attacks,' according to an unnamed official.




The first question that comes to mind is: Wasn't the military always cleared to take 'appropriate action' against the TTP? Following a number of strikes by TTP associates and splinter groups during the negotiation period earlier in the year, the country was also told by our interior minister that the military had been given the go-ahead to take appropriate retaliatory action. As a result a number of air strikes had taken place over the last few months in a number of militant-infested areas. If the military was not given such a go-ahead earlier, why not? Shouldn't a 'whatever means necessary' doctrine have always been in place to pre-empt such attacks? Hundreds of attacks, tens of thousands of dead and a number of broken ceasefires later, how many more would it have taken for such licence to be given?

A senior security official is also quoted as saying that the army leadership was very clear in its approach that 'we should not be apologetic in front of these terrorists who have declared an open war against us'. That is indeed true, but once again, how is it new? One official revealed that a final decision on the course of action against the militants would be taken after all stakeholders — including the political leadership — are taken into confidence. Following the June 10 huddle, a Formation Commanders' meeting was held on June 11 — a gathering of the top brass of the Pakistan Army — during which it was reportedly decided to intensify air strikes. The peace talks had stalled a while ago, and this line of action should clearly have already been in place as a contingency plan to be executed at a moment's notice instead of requiring a new series of meetings, discussions and statements.

A strong and, more importantly, swift response to attacks, such as the Karachi Airport one, is and was key, both tactically and psychologically, to deliver a message of readiness and unity. That clearly is not the message being sent out in the days after the attack. Another questionable aspect of the June 10 huddle is the statement that followed it. The reports of the go-ahead being given to the military and the 'don't be apologetic' quote are based on information from anonymous officials. Meanwhile, the official statement from the prime minister's office was brief and simple, stating that the law and order situation in the country was reviewed during the meeting, and added that, "Matters relating to Internal and regional security including Fata, Karachi and Balochistan were discussed".

Strategic silence is one thing, but an audacious attack like Karachi, which was able to shock a country that has already seen so much, merits a more comprehensive and clear policy statement instead of whispers and suggestiveness, leaving the bottom line to be revealed by unnamed sources and unofficial quotes — which mean nothing to a bruised and battered country severely in need of inspiration and encouragement. There is no room for tentativeness; nor stomach for the same old hackneyed statements. The prime minister, or, if not him, then the army chief, should come out and deliver a firm and clear message to the TTP and to the people of Pakistan: 'Enough.' Warring factions of the TTP should be delivered a clear choice: 'Disassociate completely or face the consequences.' Unless, of course, we are still willing to negotiate.

Published in The Express Tribune, June 12th, 2014.

Like Opinion & Editorial on Facebook, follow @ETOpEd on Twitter to receive all updates on all our daily pieces.
COMMENTS (5)
Comments are moderated and generally will be posted if they are on-topic and not abusive.
For more information, please see our Comments FAQ