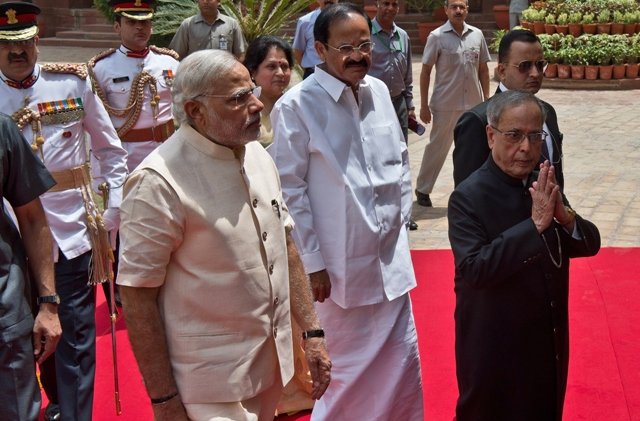 ---
NEW DELHI: India's new government pledged on Monday to curb violence against women and strengthen the criminal justice system, amid public outrage over the gang-rape and lynching of two girls.

Newly-elected Prime Minister Narendra Modi's government also promised to provide toilets and electricity in every home in a country where almost half of the population defecates in the open.

India's President Pranab Mukherjee made the pledges in a speech to parliament that laid out the right-wing government's agenda following Modi's landslide election victory last month.

"The government will have a policy of zero tolerance for violence against women, and will strengthen the criminal justice system for its effective implementation," Mukherjee told a joint sitting of parliament.

Mukherjee said India "must not tolerate the indignity of homes without toilets" as the government promised family residences would be connected to power and water by 2022.

The pledges come after the attacks last month on the two low-caste girls, aged 12 and 14, in a village in northern Uttar Pradesh state, which reignited anger over violence against women.

The cousins had gone into the fields in the evening to relieve themselves when they were attacked because their homes, like most in the district, do not have toilets.

India brought in tougher laws last year after the fatal gang-rape of a student on a bus in New Delhi, but they have failed to stem the tide of sex attacks across the country, and implementation is patchy, according to experts.

The Modi government would ensure strict implementation of those laws, Mukherjee said.

A rape occurs every 22 minutes, according to Indian government figures.

On women's empowerment, the government was committed to reserving 33% of seats in parliament and state assemblies for women, the president said, a pledge of previous national governments.

The government will also seek to improve education for girls in patriarchal India and end female foeticide, which though outlawed is still practised in a country that favours boys over girls.