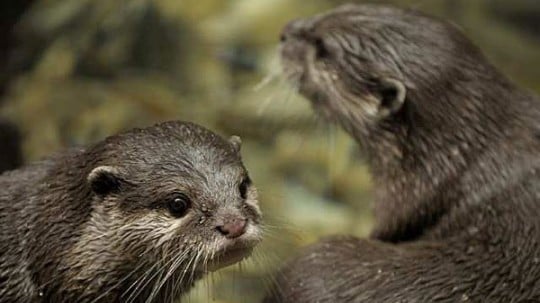 ---
KARACHI: A dusty paw print here, a half-eaten fish there, rustled leaves, and tales told by sun-wisened fishermen - there is no shortage of clues to their existence but the smooth-skinned otters can hardly ever be spotted.

The furry creatures, called Oodh Balao and Paani ki Billee in Urdu and Ludhro in Sindhi, have good reason to stay out of sight. The Sindh Wildlife Department has categorised otters among its threatened species, warning both the government and the people that if the semi-aquatic mammals are to be saved, something has to change.

The department collaborated with the World Wildlife Federation Pakistan (WWF-P) and the Sindh government to carry out a study on otters in Sindh. They traversed 5,000 kilometers, covering 36 different localities in 12 districts from November 2008 to February 2009. They found evidence of otter existence at 25 sites, but only once did they come across their elusive objects of study: six baby otters snuggled into their mother near the Chotiari power house.

The report, titled 'A Survey of Smooth Coated Otters in the Sindh Province of Pakistan', was researched and written by Waseem Ahmad Khan and eleven other researchers. According to the report, there are around 178 smooth-coated otters left, and the already abysmal statistics threaten to decline further since their importance is simply not understood.

Otter fur, skin and extract from their bodies, claimed to be a sex stimulant by herbal healers, are quite popular among locals and nomadic tribes that settle around their habitats.

People living in these areas are poor, with limited access to basic amenities and a dire lack of occupation. For them, selling otter skin is a life-saving game. Its skin is regarded as a highly priced product and can fetch a price ranging from Rs30,000 to Rs60,000 - enough money to ensure a family's survival for at least six months.

"You cannot expect people who are struggling for their own livelihoods to care about the survival of otters," said Rahmatullah Qureshi, a researcher in the botany department of the Pir Mehr Ali Shah Arid Agriculture University, "They must be given incentives to stop hunting otters."

The conflict between the otters and the locals does not stop here. There is a constant tugand- pull over their habitats and their food. A general dislike for the animals has worsened the situation: people consider otters 'pests' and try to kill them any chance they get.

Locals have been forced to shut down their fish farms because of otter attacks on their stocks, which destroy their only source of livelihood. On the other hand, the homes of these otters are being cut down because the long grasses where they live are useful both domestically and commercially.

People continue chopping up their safe havens and turning them into thatched roofs or mats. The same tourists that might coo and gush over the smooth-nosed animals endanger their lives by throwing plastic bottles and polythene bags in the very water which provides otters their food.

Water pollution and habitat degradation couples with a tragically weak enforcement of wildlife laws and looms around the otters in a dark, threatening environment.

Otters have completely disappeared from Hummal and Manchhar lakes, and while they can still be found in Keenjhar Lake, ill-planned tourism and over fishing is swiftly driving them out from there as well. While terrorism, poverty and unemployment continue to fight each other for the top spot on the country's priority list, environmental issues such as the endangered status of the smooth-coated otter must be attended to as well.

Otherwise, local tales and narratives is all that will be left of the otters.
COMMENTS (4)
Comments are moderated and generally will be posted if they are on-topic and not abusive.
For more information, please see our Comments FAQ