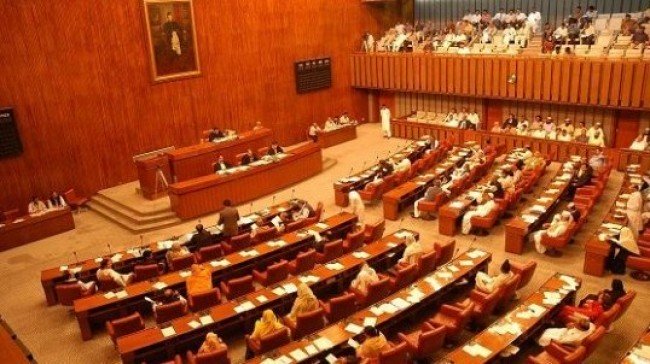 ---
ISLAMABAD: Pakistan should prepare itself to tackle any adverse fallout from the uncertain future of Afghanistan by dealing the country as an autonomous friend and neighbour rather than handling it as its province.

These views were expressed at a public hearing on the withdrawal of US Forces from Afghanistan and its implications on Pakistan, which was organised by the Senate Standing Committee on Foreign Relations.

The open hearing was attended by present and former diplomats, policymakers, parliamentarians, journalists and representatives of civil society, who agreed on the point that Pakistan should have a neutral policy about Afghanistan and should take extra measures to handle the fallouts of the situation — as experienced after the disintegration of USSR in the 90s.

"Afghanistan is an independent country and not a province of Pakistan. Our military and civilian establishment should have a neutral foreign policy about the neighbouring country," said Senate Standing Committee on Foreign Relations chairman Senator Haji Muhammad Adeel.

"The Afghans should be allowed to decide their own fate as an independent nation." Any attempt to indulge in their internal affairs would not only leave a negative impact on Afghanistan but Pakistan itself will also suffer from such policies, he maintained.

Senator Adeel suggested that there should not be any policy on the basis of likes and dislikes, in fact transparent diplomacy should be maintained with whosoever comes in power in Kabul.

Former diplomat Dr Maliha Lodhi said that Pakistan should work with the international stakeholders eyeing the best-case scenarios but should also be prepared for the worse. She urged the need to learn from history, "Pakistan should carefully assess what might happen across its western border and promptly take appropriate actions."

We failed to take these steps 25 years ago, when the Russians were withdrawing from Afghanistan, leaving Pakistan in an awkward state which it was not prepared to deal with, she said. "We ignore the lessons of history at our own peril."

Dr Lodhi described how Pakistan, with such a high stake in the success of Afghanistan's transition, has offered to extend whatever help Kabul may want to support its transition of power.

Former ambassador to Afghanistan Qazi Hamayun suggested that Pakistan should secure itself from any fallout from the Afghan scenario by remaining neutral in the Afghanistan's internal issue. He noted that Afghan peace is a fragile matter and Pakistan should assess the situation to check any fallout.

Former ISI chief Asad Durrani, however, defended the Pak-Afghan policy during the 80s against the USSR, saying that Pakistan had also an option to remain silent, but whatever it did was in the better interest of the country as the region was under war and Pakistan could not be remain a neutral in such a situation. "Every policy was based on good intention and its results could be different", he added.