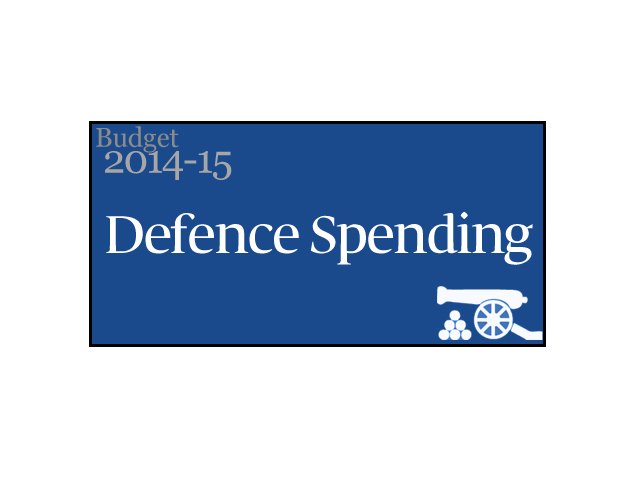 ---
ISLAMABD: Defense budget has been jacked up to Rs700. 2 billion for the 2014-15 fiscal year fiscal year beginning on July 1, compared with Rs 627.2 billion allocated in the outgoing fiscal year, showing an increase of Rs 73 billion.

The military, however, had sought an increase of Rs 173 billion in defence spending for the coming fiscal year.

Military officials defended the increase insisting that Pakistan military's expanses are lowest in the region given the volatile security environment.

The budget document presented before the parliament did not give a break up about the allocation of defence spending among the three forces.

But according to defence ministry officials, out of the whole defence budget, Pakistan Army gets 48 per cent while 20pc goes to Pakistan Air force and Navy's share is 10pc.

According to the budget document 2014-15, out of that Rs 700.2 billion, Rs 293.5 billion have been allocated for employees related expenses, Rs 180.2 billion for operating expenses and Rs 152.8 billion have been earmarked for physical assets.

However, the figures do not include Rs 163.4 billion allocated for pensions of the military personnel that would be given from the civilian budget and a separate allocation for the security related expenses in a move, which critics say seeks to conceal the actual defense budget.

In addition to this, military would also be given Rs 165 billion under the contingent liability and Rs 85 billion under the Coalition Support Fund (CSF).

This means that in reality a whopping Rs 1113 billion has been allocated for the military, which is about 28.2 percent of the country's total budget.

While reviewing the budget brief of previous years, it was revealed that in last five years while the defence expenditure has been almost doubled from around 350 billion in 2009-10 to Rs700 billion this year, the rate at which it has been increasing has been diminishing.



In 2009-10, government increased the defence budget by 21.46 per cent, which was reduced to 17.58 per cent in 2010-11. In 2011-12 the defines expenditure was raised at the rate of 14.73, which further slipped to 11.79 per cent in 2012-13.



Defense budget has remained a sensitive and controversial subject in the country and there have been calls for greater scrutiny of the spending.

The defense budget has never been debated in detail in the Parliament.

But Senate's Defence Committee has recently taken the initiative to publicly discuss the military spending.

Pakistan raises its defense spending every year because of its historically uneasy relations with old rival India.

India earlier this year boosted military spending by 10 per cent for the coming year as it seeks to counter China's rapid military build-up and its traditional rival Pakistan.

Defense analysts believe given the internal security challenges much of the increase in the defense budget by Pakistan is likely to be spent on the fight against militancy.


 


COMMENTS (24)
Comments are moderated and generally will be posted if they are on-topic and not abusive.
For more information, please see our Comments FAQ