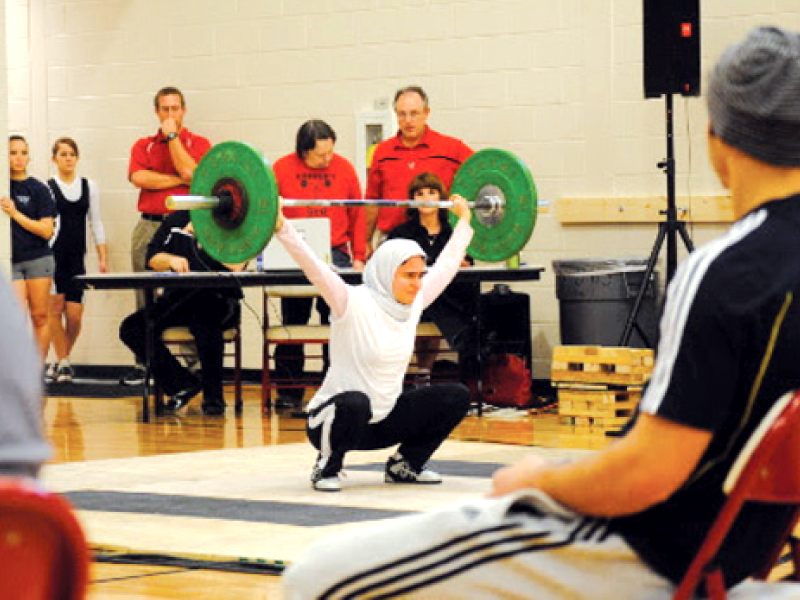 ---
ISLAMABAD:



A documentary film "The Pakistan Four" was screened at the United States Education Foundation for Pakistan (USEFP) office on Friday.




Directed and produced by broadcast journalist and Fulbright alumnus Shehzad Hameed, 29, the film showcases the real life stories of four Pakistani-American women who have embarked on a journey in pursuit of professional and personal goals.

The women are weightlifter Kulsoom Abdullah who campaigned and won the right for Muslim women to wear covered sports attire for US national weightlifting competitions, Hareem Ahmad, an MIT graduate who left a career in Wall Street to become an award-winning professional sabre fighter, Nadia Manzoor, a stand-up comedian and actor and award-winning Manhattan chef and winner of the reality cooking show "Chopped," Fatima Ali.

"I felt it was quintessential that we as Pakistanis needed more examples for women who faced many barriers in different shapes and forms. Today, as we stand, I feel there is a dearth of heroes, especially for women. An ordinary girl in Pakistan has no clue who to look up to and say, 'I can do it too,'" Hameed said.

The 37-minute film explores the cultural and social challenges faced by these women as they take on the roles ranging from an award-winning chef to a stand-up comedian.

"There are many women working for change in Pakistan and I hope that this documentary inspires both women and men to do whatever they dream of with confidence," he added.

Shot in the US, the film has received critical acclaim following its world premiere at the New York University Film Festival this year.

Speaking about the challenges faced during the filmmaking process, Hameed alluded to working within limited resources and finances.

"I enjoyed the process otherwise I could never have made the documentary in the given time frame," he said, adding that he did everything from filming to editing and marketing the film on his own.

The bigger problem was getting the film to the market since, he added, the mainstream media was not interested in airing human-interest stories as opposed to terrorism and domestic issues. "Changing how the western media perceives the country is itself difficult which is why such a piece of film or news is important," he added.

The film was also screened at the Harvard Kennedy School of Government and Georgia Institute of Technology in the US and the National College of Arts and Kinnaird College, Lahore.

Hameed graduated from New York University's Arthur L Carter Journalism Institute in 2013 with a major in News and Documentary Filmmaking. He is a recipient of the Fulbright scholarship for 2012.

Sharing his experience of attending film school abroad, he said, "There is a lack of technology, facilities and experienced faculty in film schools within the country. Everything is based on theory whereas this is a practical field and unless you've gone through the experience, you cannot really expect to know the dynamics," he added.

Published in The Express Tribune, May 24th, 2014.
COMMENTS
Comments are moderated and generally will be posted if they are on-topic and not abusive.
For more information, please see our Comments FAQ