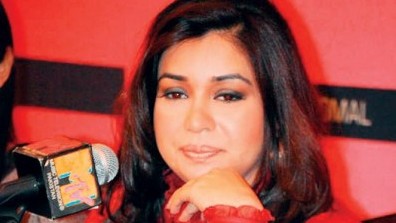 ---
KARACHI: Komal Rizvi is back with a bang and a brand new reality show for MTV Pakistan.

Rizvi was an extremely popular singer in the 1990s and also worked for MTV in India. It has been more than a decade since Rizvi vanished from the music scene. She aims to make her comeback with a new reality show, where audiences will get a chance to see an insider's perspective on Karachi and the entertainment industry.

Rizvi said at a recent press conference that she felt music was in her blood. "A true artist always wants to perform for an audience. I intend to use this reality TV show as a stepping stone to connect with audiences again. Success is not my aim. I believe in myself and am hoping that my fans will believe in me as well. I really need encouragement from all my support groups."

Rizvi's brother, Hasan Rizvi (the man behind BodyBeat Dance Studio), will also be performing on the show. Rizvi's PR representative, Nadia J. Abidi said, "The 1990s were the era of Komal Rizvi. She was the first Pakistani female artist to go to India and perform. She won acclaim from all over the world, and has performed with a number of international leading artists. She left the music scene at the height of her career and is now back to give it her very best shot."

The show is called "MTV Komal", and will feature producers Shani and Kami helping her create a new sound at their recording studio. Hassan Sheheryar Yasin will style her music video and Feeha Jamshed will dress Rizvi for red carpet appearances. Can Komal make a comeback? And does her show mean MTV is exporting its brand of reality television to Pakistan? We obviously live in rather strange times.
COMMENTS (1)
Comments are moderated and generally will be posted if they are on-topic and not abusive.
For more information, please see our Comments FAQ