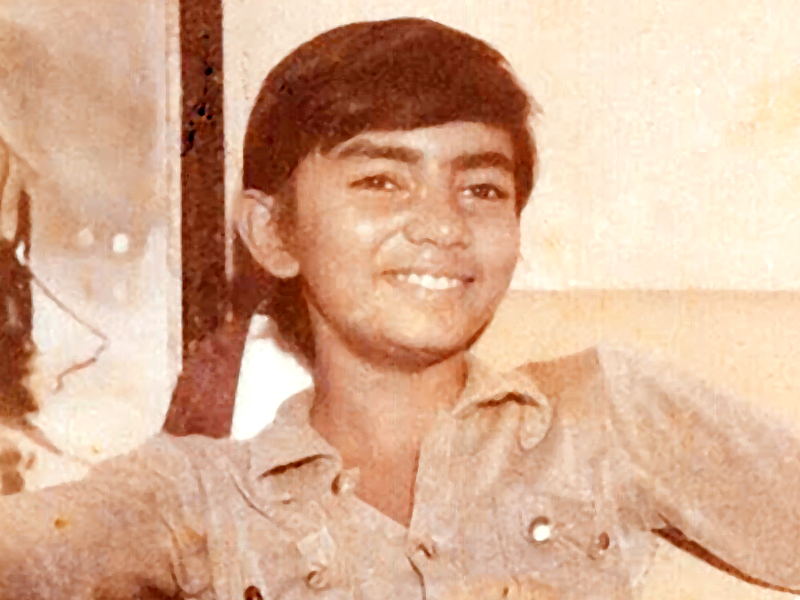 ---
KARACHI:

The year 2014 marks 35 years of singer Sajjad Ali weaving magic through music. Timely and providing a retrospective glance at the music virtuoso's career trajectory, his latest offering is a revamped version of his timeless hit Bolo Bolo as Kya Dekha. Comprising shots from his previous music videos, the song seems to be Sajjad's tribute to himself.


On this occasion, we talk to Sajjad and his brother, musician Waqar, to take a stroll down memory lane and revel in the illustrious music that Sajjad has produced over the past three and a half decades.

"The key to my success has been to remain modest and comfortable with whatever you have achieved," Sajjad tells us. "I have always been grateful to Allah for everything that has come my way and that is also the reason why He has blessed me with one milestone after another" he adds.

In 1993, Sajjad and Waqar had no idea how things would unfold when they were recording the song Babia. It was their take on the Arabic track De Dedia, which they made, not because it was a great song to replicate and launch an album with, but because their mother wanted to listen to the same song in Punjabi. It's a fact confirmed by Sajjad himself.



What followed were white joggers, a Boombox and riveting dance moves by the maestro and his pals. For many, this marked the arrival of Sajjad, but he had already been a part of the industry for 15 years as he released his first album Master Sajjad Ali Sings Classics in 1979 at the age of 13.  Since then, he has never looked back and his latest song Har Zulm Tera Yaad Hay (2013), which became an instant hit, is a testament to this.

The versatility of Sajjad's music makes it difficult for anyone to classify his genre as a musician as he has given us a flavour of everything during his career. The one song that has stood the test of time and is played at almost every other underground gig even two decades after its release is Bolo Bolo.

"The reason why Bolo Bolo became such a huge success was because it was the first Pakistani rock song that received mainstream acceptance. Not that there weren't other rock songs, but those couldn't really grip the masses" explains Sajjad.

From Chief Saab to Cinderella, Sajjad has gifted us with one hit song after another. He stayed relevant during a time when his contemporaries such as Vital Signs and Junoon and Awaz were also making good music. With a few gaps in between, he consistently carried on and gave new-age pop musicians who arose during the Indus Music days a run for their money with songs such as Sohni Lag Di and Paniyon Mein.




"I have never done a lot of back-to-back work in my career. I feel that kills the soul of your expression," shares Sajjad. "These days, the average life of a song is one week, so instead of releasing a song or video every month, I'd release one that lasts longer than many average songs. That's just my style."

What bothers Sajjad is that budding artistes depend on technology for music and he believes that in this rat race for better studio equipment, musicians these days are keeping away from good songwriting.

"You'll laugh if I tell you the kind of equipment on which Har Zulm was recorded," he laughingly says. "No matter what the genre may be, songwriting will remain the central idea behind memorable music and that can only be improved with more exposure to all sorts of music and a yearning for experimenting."

Sajjad Ali's love for the martial arts

If you remember the video of Chief Saab, then you'll also remember how smoothly Sajjad played nunchaku and threw some flying kicks in it.  Well, that's how Sajjad expressed his dedication to different forms of fighting and he has been a regular taekwondo student at Ashraf Tai's academy.



"He used to learn lessons there and apply them on me and other siblings at home," Waqar says. "He had received various achievements in taekwondo, but certainly couldn't reach the level of having a black or brown belt," he explains.

However, his yearning to learn different combat practices didn't stop there as he, along with his brothers, read taekwondo books and watched Bruce Lee films to learn the martial arts. So much so that even Waqar could play with double nunchakus.

"We used to guess Bruce Lee films after looking at a certain fight sequence," shares Waqar. "Such activities inculcated in us a strong passion for fighting to an extent that the martial arts became our second love after music."


Published in The Express Tribune, May 22nd, 2014.
Like 
Life & Style on Facebook, 
follow
@ETLifeandStyle
on Twitter for the latest in fashion, gossip and entertainment.