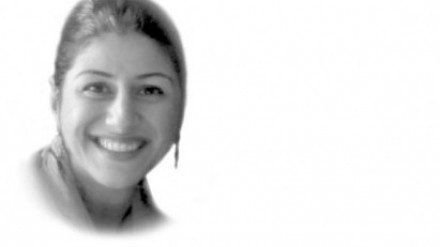 ---
I first saw the Manhattan skyline in the year 2002 and since then have had an ongoing romance with the city of New York.

If I recall, my initial sense was of having penetrated the magical world of cinema and to have become part of it. As I walked through the streets lined with towering skyscrapers in midtown Manhattan my feet raced to keep up, as did my heart, to imagine that I was a drop in that steady stream toward some unknown ocean of treasures. But that ocean remains forever unattainable, for let's not forget that I only got here in 2002 — after September 11, 2001.

Then came Afghanistan, followed by Iraq, after which came the recession and eventually speculation of the implosion of an empire upon itself. So much of the city is in the streets. Perhaps that is why the pedestrians are arrogant, pushing the limits of car-owners by strolling across the road well after the 'Don't Walk' sign starts flashing.

It is in a street fair where a woman sells you a dress that her sister made in Nigeria, across from a stall of Italian cuisine to go, the smells of which mingle with the sharp scent of Mexican tamales and the wild colours of rows upon rows of fake designer bags. Within 60 seconds, you can hear six languages in New York and see 600 items to purchase of which you have use for none, but they all sound so good that you want them right away. The items could be an iPhone, or it could even be the end of a romance, sold in the form of a divorce for just $399.

It was also in the streets where hundreds of thousands of people came out to protest the war against Iraq, albeit to no avail. It is in the streets that 3.5 million people sleep in the United States, of whom according to the Urban Institute, over 37,000 are in New York. Beneath the surface lies the subway station where I wait for the train that will take me to watch Tim Burton's Alice in Wonderland in 3D IMAX. I am struck by the constant automated announcements to remain vigilant at all times. Trains are delayed and routes are changed because a particular stop was sealed after suspicious activity was detected.

Let me take you to the beginning of my trip, when I was taken to the Guggenheim Museum by my sister, who was participating in a piece by the artist, Tino Sehgal. I watch the two lovers clad in black, in the centre of the floor of the incredible piece of architecture that is the rotunda.

They are engaged in a two-and-a-half-hours-long embrace called The Kiss in which they, well, kiss, undulate, move together and apart, stare into each other's eyes and occasionally into mine. This is before I am immersed in a conversation that spans genders, ages and issues, all the while walking ahead and up a circular ramp; almost like Alice plunged into the rabbit-hole but in reverse.

It was right after an eight-year old boy came to me, put out his hand and said, 'Hi, can I ask you a question?' 'Yes, of course' I said. 'What is progress?' he asked, not looking in my direction as he skipped ahead. Indeed.

What is progress?
COMMENTS (4)
Comments are moderated and generally will be posted if they are on-topic and not abusive.
For more information, please see our Comments FAQ