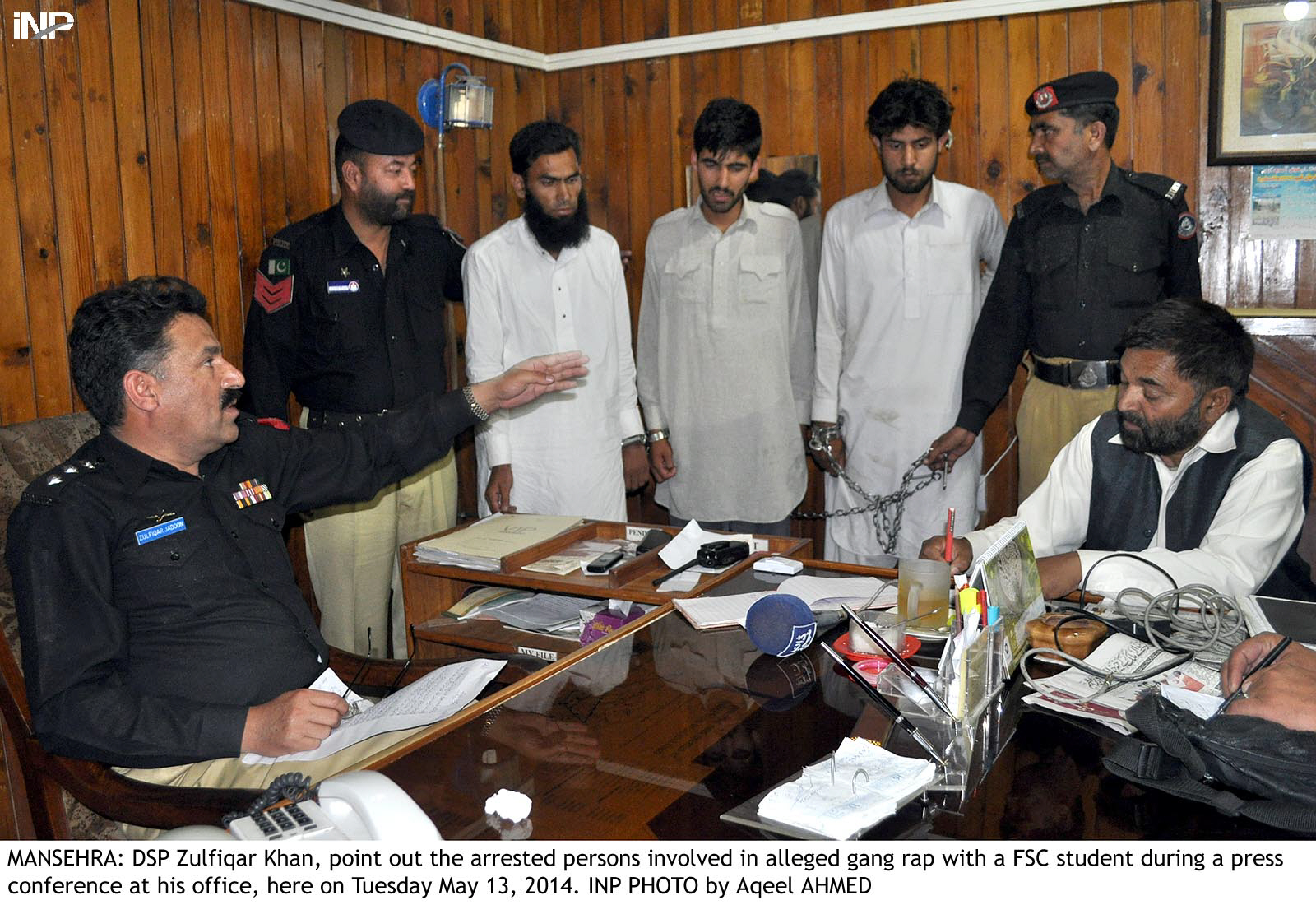 ---
MANSEHRA:



Two men, including a seminary teacher, allegedly raped a college-going girl in Mansehra, police said on Tuesday. The accused have been arrested.




Talking to journalists, DSP Zulfiqar said Parveen Bibi* was returning after giving an exam at Sky International School on Monday morning when her friend Amna* offered to drop her in her fiancé's car.

At first Parveen refused, but on her friend's insistence she got in the car which had tinted windows.

The DSP said two men were seated in the front while the girls sat at the back. The driver took a turn towards Balakot Road, but quickly changed direction towards Qalandarabad after spotting a police mobile parked ahead.

The DSP said two men were seated in the front. The driver changed direction towards Qalandarabad area after spotting a police mobile.

Quoting the victim, the DSP said Qari Nauman*, the seminary teacher, shifted to the back seat and raped her first while the other kept driving. They then picked up another guy, Hammad*, who also raped Perveen, he added.

The accused then dropped the victim near Ghazikot Township Township in the evening after which she called her parents who reached the site with the police.

A search team was dispatched which led to the arrest of Qari, who was trying to escape from Haripur, while the driver, Hammad and Amna were nabbed from their houses.

According to the DSP, medical reports of the girl proved she was raped. Amna later confessed to trapping girls for the seminary teacher who she claimed rapes them and makes their video to blackmail them.

(*Names have been changed to protect identities)

Published in The Express Tribune, May 14th, 2014.
COMMENTS (12)
Comments are moderated and generally will be posted if they are on-topic and not abusive.
For more information, please see our Comments FAQ