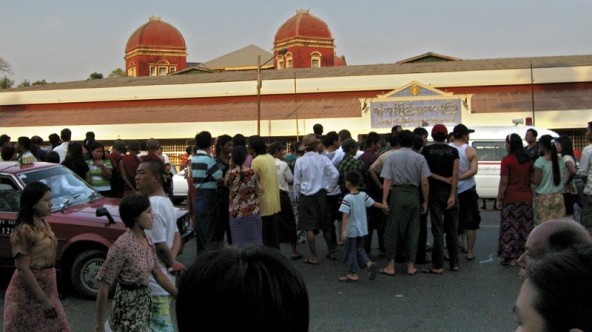 ---
YANGON: Three bombs rocked a park in Myanmar's main city Yangon on Thursday as revellers celebrated an annual water festival, leaving at least 9 people dead and more than 60 wounded, officials said.

The blasts occurred near Kandawgyi Lake in the military-ruled country's commercial hub where crowds had gathered to celebrate the Buddhist new year.

"Nine people were killed, 5 men and 4 women -- and so far 62 people were injured," an official told AFP on condition of anonymity.

A fourth bomb was found and defused, the official said. The blasts came as the country prepares for elections planned for this year that critics have dismissed as a sham for effectively barring opposition leader Aung San Suu Kyi because she is a serving prisoner.

Hundreds of people gathered around the area, which was cordoned off by police after the explosions. Witnesses said people fled and ambulances rushed away casualties.

"I saw blood on many people," said a Red Cross official.

Myanmar has been hit by a series of bomb blasts in recent years, with the junta blaming attacks on armed exile groups or ethnic rebels. The military has ruled Myanmar since 1962, partly justifying its grip on power by claiming the need to fend off ethnic rebellions that have plagued remote border areas for decades. The regime has stepped up its decades-long campaign against minority insurgent groups in an apparent attempt to crush them before the polls planned for this year.

Democracy icon Suu Kyi has been detained for 14 of the past 20 years. Rights group Amnesty International in February called on the governing generals to end repression of ethnic minority groups ahead of the vote, accusing the regime of arresting, jailing, torturing and killing minority activists in a bid to crush dissent. The government has signed peace pacts with some ethnic groups previously opposing the regime.

Myanmar is home to several ethnic groups, with some waging decades-long armed uprisings along the country's eastern border alleging they are subject to neglect and mistreatment.

The authorities said in August last year that they had foiled a plot by a man sent by exiled pro-democracy groups to bomb Yangon during a visit by UN Secretary General Ban Ki-moon the previous month.

Ban had been in Myanmar to seek the release of Suu Kyi, whose house arrest was extended by 18 months in August after she was convicted over an incident in which an American man swam to her house.

Myanmar has also seen clashes between government troops and rebels in Kokang, a mainly ethnic Chinese region of Myanmar's Shan state.

Suu Kyi's National League for Democracy (NLD) won a landslide victory in 1990 elections, but the junta never allowed it to take office. The Nobel peace laureate has been under house arrest almost constantly since.