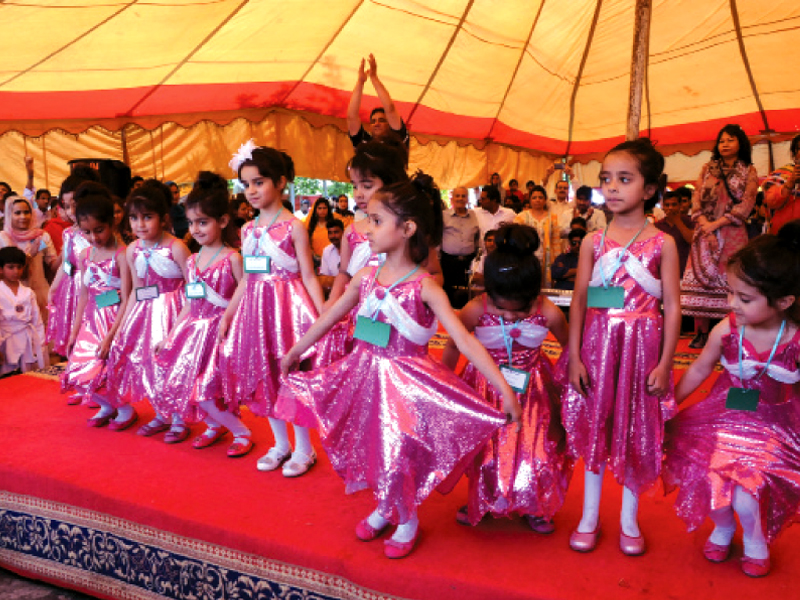 ---
ISLAMABAD:



A bright day in the capital was made sunnier for some, as evinced by a host of smiling, wide-eyed children frolicking in the F-9 Park on Thursday. A closer look revealed undertones of pain hidden beneath the expressions of pure glee.




The event which garnered such a turnout was the 'Funfair for Persons with Disabilities', organised under the aegis of Federal Directorate of Education (FDE) by the Capital Administration and Development Division (CADD).

In attendance were representatives from most of Islamabad Capital Territory's (ICT) institutes for special children, along with their students and exhibits of the equipment used in their respective facilities. Various stalls set up by these schools displayed publications, brochures and equipment for the physically challenged and hearing-impaired individuals.

Teachers from the participating institutes and stall attendants seemed less concerned about financial and managerial issues, and more so about the way society treats special children.

"Besides the practical and logistical issues we face, what troubles us is the general attitude meted out towards special children by society," said a senior teacher from the National Special Education Centre for Visually Handicapped Children, Al-Makhtoom, G-7/2.  "This especially includes the actions of parents who either pamper them too much or abandon them at home," he said, adding that inclusion in routine activities is of utmost importance, so that the society at large can be sensitised.

Sadaf, a teacher from the National Special Education Centre for Hearing Impaired Children G-8/4, said that there is still a lack of awareness about accurate diagnoses in special children, which limits their prospects for the future.

A stage set up in the middle of the ground housed singers and musicians to entertain the children with catchy tunes, allowing them to sing and dance on stage as an accompaniment. Some of these children were being ushered by their parents, at once protective and delighted.

Faiza, a clinical psychologist and speech and language pathologist from ASAS International School Islamabad trains and teaches children with Downs Syndrome, Dyslexia and hearing impairments.  For her, the job is challenging not just because her students need constant attention, but also due to their mood swings and peculiar habits which have to be accounted for. She reiterated the problems stemming from a lack of awareness about correct prognosis.

"For instance, parents are told by some doctors that their child is visually impaired, but actually the child may just be a slow learner. This is a commonly recurring misconception," adds Faiza, saying that this aggravates problems of learning for the child under consideration.

ASAS International School Principal Tabbasum Nisar shared that initially, their school was a regular institution, but one case in particular drew their attention towards special children and impelled educators at the institute to cater to these misunderstood young ones.

"We counsel parents of non-disabled students who fear for the safety of their children. We also teach our non-disabled students how to interact with their counterparts who have such disabilities," said Nisar.

Among other issues discussed by the teachers was the need for government sensitisation to the enforcement of a two per cent job quota for special people, which would encourage the latter to study.

"The penalties for violating such laws are nominal, which is why nobody bothers to follow them," said Ahmad Sheikh of Al-Makhtoom School.

Some stalls had put up displays of pictures and paintings made by special children, while others urged the media and society at large to accept people with disabilities and integrate them in the mainstream.

Published in The Express Tribune, May 9th, 2014.
COMMENTS
Comments are moderated and generally will be posted if they are on-topic and not abusive.
For more information, please see our Comments FAQ