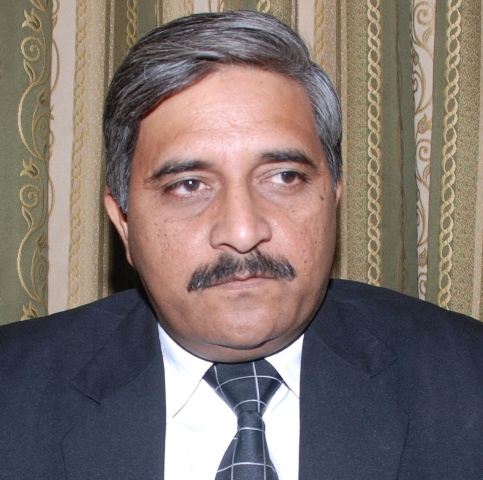 ---
MULTAN: Human rights activist Advocate Rashid Rehman Khan was killed and a fellow lawyer along with a client were injured in a targeted attack in Multan on Wednesday evening.

Khan and his fellow lawyer were sitting with a client in their private chamber near Kutchery Square when two people approached them at around 8:30 pm. They climbed the stairs to the chamber, located on a higher floor, and opened fire at them.

Each of the assailants fired at least 12 bullets at their victims. Following the attack, the assailants managed to escape via the main road.

Khan died on the spot while his colleague was shot thrice and the client twice. They were rushed to Nishtar hospital where Khan was pronounced dead on arrival. Doctors added that Khan had received fatal injuries from three bullets.

ASP Cantt Ali Mardan Khosan said that he knew of the threats to Khan, and that they were investigating the incident.

Khan, who was also a coordinator for the Human Rights Commission of Pakistan (HRCP) in Multan, had last month been threatened inside a courtroom in the Multan Central Jail. This had prompted the HRCP to write to the Punjab government on April 10 to express its concern.

A subsequent report by the Special Branch said, "The HRCP, through a letter, expressed its serious concerns over threats given to Rashid Rehman Khan, an advocate of the Supreme Court and lawyer of Junaid Hafeez, who is accused of blasphemy in Multan."

The report mentions that "three persons including Advocate Zulfiqar Sindhu, in open court" threatened the lawyer and that 'vigilance is indicated'.

In its letter to the Punjab government, the HRCP said that "[it] is extremely concerned about the threats given to the lawyers of Junaid Hafeez."

But no action had been taken on these threats. Khan said no case has been registered against the accused so far. "In such cases, the dangerous trend of 'mob justice' surfaces because people want to punish at will and this aspect is very dangerous," he said.

Khan had been attacked five times before Wednesday. However, he had manage to survive till now.

Pakistan's former ambassador to the US Sherry Rehman, who had a professional association with Khan, said she was devastated by the attack.


@abbasnasir59 Devastated to hear of Rashid Rehman's murder. Killed after weeks of multiplying public threats, informing administration!

— SenatorSherryRehman (@sherryrehman) May 7, 2014


There was outrage and despair over the attack, with many taking to social media network Twitter to voice their opinions.

https://twitter.com/BushraS/status/464112891730219008


Justice & Progressive Organization - JPO strongly condemns the killing of HRCP's Adv. Rashid Rehman Khan ( Human... http://t.co/fexcmWedJY

— Maaz Ahmad (@maaz3402) May 7, 2014
Another barbaric act another black day--- Rashid Rehman gunned down. Let us all mourn and move on. Shame!

— Ijaz Ul Haq (@ijazulhaq) May 7, 2014
Security forces & govt must be held liable for negligence for not protecting Rashid Rehman despite him reporting death threats. #Pakistan

— Usama Khilji (@UsamaKhilji) May 7, 2014
The murder of Rashid Rehman advocate is an attack on oppressed people of Pakistan.He was threatened in court room. State has surrendered.

— Afrasiab Khattak (@a_siab) May 7, 2014
Rest in peace Rashid Rehman. There is nothing else left to say.

— Sami Shah (@samishah) May 7, 2014


Lawyers announce strike

After the murder of Khan, lawyers announced that they will stage a strike on Thursday.
COMMENTS (9)
Comments are moderated and generally will be posted if they are on-topic and not abusive.
For more information, please see our Comments FAQ