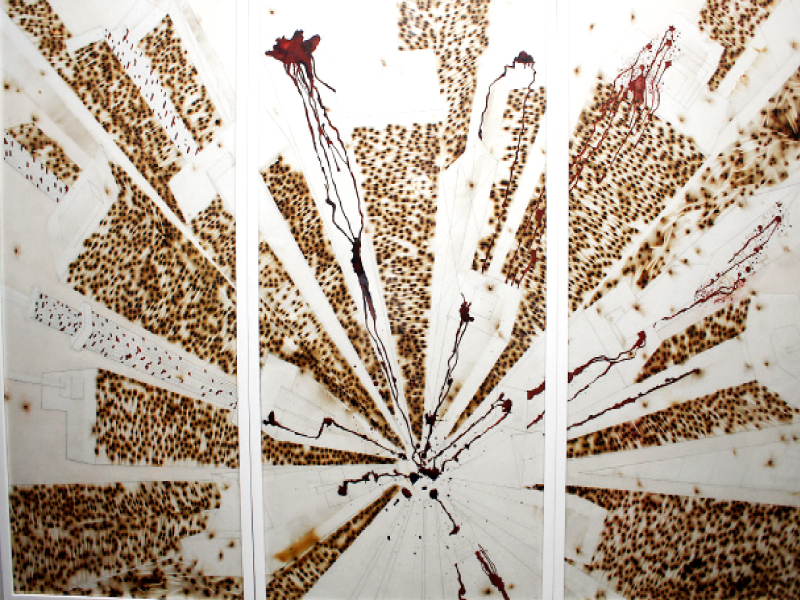 ---
LAHORE:



A group show titled Silence Please started at the Nairang Art Gallery on Monday.




Artist Quddus Mirza inaugurated the exhibition that will continue until May 15.

It features 18 paintings by Zarah David, Saher Jalil, Minahil Hafeez, Sajid Ali Talpur, Anil Waghela, Minelle Gaya, Muhammad Umar, Muzammil Khan, Sadia Farooq and Mariam Hanif.

Amna Hussain, the curator, said the exhibition was an attempt to capture and communicate a sense and essence of tranquillity.

She said it aimed at providing viewers a calm, serene, peaceful and intimate environment… and a chance to interact with the art rather than just people.

"When we see a painting, we are reminded of hundreds of things which influence our likes and dislikes."

She said a peaceful environment was necessary to concentrate on a piece of art.

"A great work of art looks different every time we see it. It is in an exciting world of its own inspiring awe and wonder at its height. Nobody can claim to know all about it, for nobody does," she said.

Mirza said the exhibition was an attempt to focus on a form of art that was important but not too visible.

The abstract imagery and sensibility in local artists' work has been explored and experienced in the exhibition.

He said the work on display apparently did not have a recognisable and readable content but it impressed the viewer through colours, shapes and textures.

"Hussain deals with the visual arts like music… the work is experienced through senses, enjoyed for its formal aspects and remains in our memories. This exhibition reminds us of an aspect of art that is often neglected but cannot be negated."

David said her source of inspiration was her belief in God and the goodness of man.

She said she transformed what she imagined into her paintings.

"I believe whatever is in one's heart shows in one' work – be it a painting, poetry or music. They are related to one another and cannot be isolated."

David told The Express Tribune that she had also done a series of 30 poems related to her paintings.

"I never pre-plan my paintings. The colour I start with denotes the mood I am in and the painting develops as I go along. Everything is linked to it; my fingers paint what my mind tells it to."

Farooq said her drawings were a visual representation of zikr (remembrance) – an act of devotion involving the recitation of the names of God, and supplications taken from hadith texts and Quranic verses.

"It is a ritual practiced by certain Sufi orders as an attempt to abstain from worldly desires."

Gaya said, "I am drawn to the mystic realms of old architecture and deceased, abandoned spaces. Countless layers of flaking paint cracked walls fragile to the touch, eroding surfaces intricate and complex, all bursting with the memories of all they have seen; these are my escape, and my solace. "

Gaya said a visit to her mother's ancestral home in Sadder, Karachi, had been the trigger.

"I explored my attraction towards architectural decay and abandoned spaces using different mediums including but not limited to; mark making, the use of texture and layering of paint, to bless them with the human element that in my opinion they so desperately hope for."

She said that experimentation with mixed media such as cement, pigments and wall paint was a prominent part of her work."With this series, I want to create a consciousness of the web of untold stories these walls hold within them. [A different] perception will render these spaces deceased, [but] my warmth of emotion brings them to life," Gaya said.

Published in The Express Tribune, May 6th, 2014.