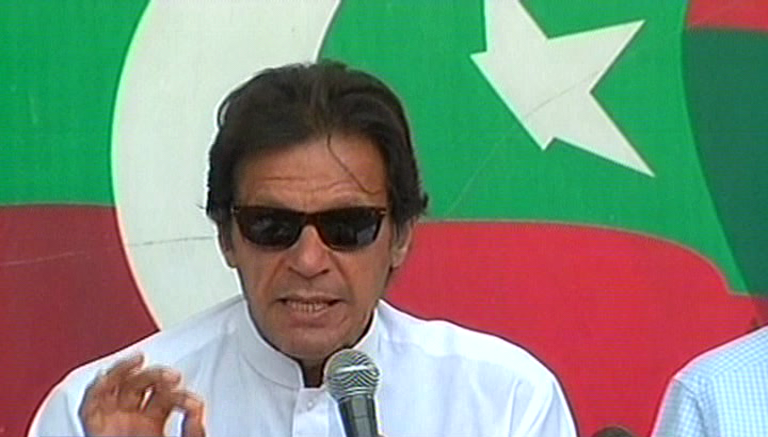 ---
ISLAMABAD: Pakistan Tehreek-e-Insaf (PTI) chairperson  Imran Khan on Thursday alleged that the Jang and Geo Group had a hand in the rigging that took place in the May 2013 elections.

Based on this, he said, he and other members of his party would no longer make appearances on Geo until he receives an apology.


#IKPressCon Myself and my party will keep on boycotting Geo unless they apologize"

— PTI (@PTIofficial) May 2, 2014


Khan's main contention is that the channel broadcast Nawaz Sharif's victory speech at 11:23 pm on May 11 when only 18% of the votes had been counted.

PTI has issued a white paper in which it reveals instances of rigging that the party had investigated.

"Today, I will present to you the extent of the rigging that took place, which was even more than we had expected," said Imran.

He said the media must also be fair and free in order for elections to be fair and free too.

While speaking at the press conference, Khan mentioned that the PTI representative from NA-118 ,Hamid Zaman, put in Rs5.7 million of his own money to acquire information about the voter count.

Khan also mentioned that Zaman had received threats following his request to use fingerprint verification during the polls.

He also alleged that out of 325 bags of ballot sheets, only 69 bags had been sealed and had the right materials in them.  And 255 of those bags were either empty or had incomplete materials in them.

"The returning officer is responsible for this," said Khan, "the presiding officer's task is to give the bags to the returning officer who must only accept them if they are sealed."

Khan made a plea to the Supreme Court requesting it to take suo motu notice of this.


COMMENTS (98)
Comments are moderated and generally will be posted if they are on-topic and not abusive.
For more information, please see our Comments FAQ