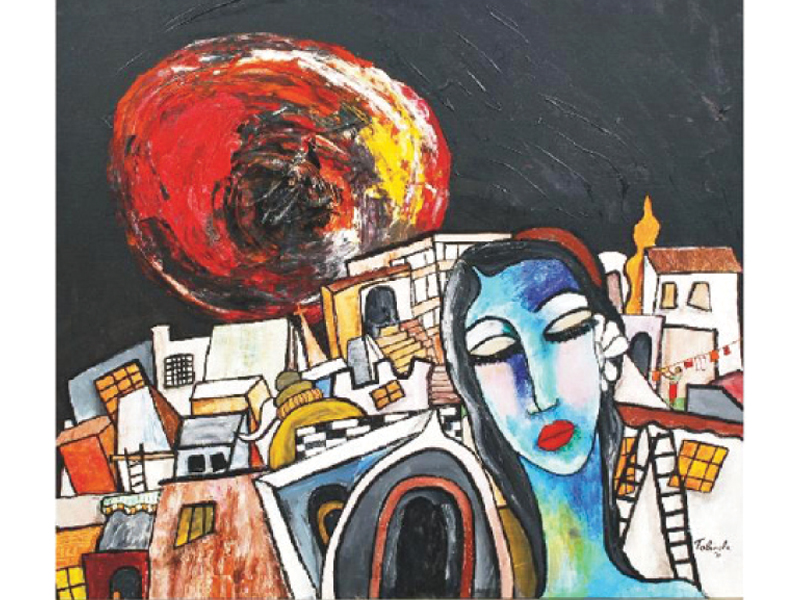 ---
KARACHI:



Women inspire Tabinda Chinoy. She loves the fact that a woman can accomplish anything she sets her mind to - family, work, life.




A woman, according to Chinoy, can conquer it all. Her paintings, exhibited at the Momart Art Gallery, were a reflection of just that. There was one painting on display at the Live and Let Live exhibition which caught the attention of many. It was titled 'The Family' - a woman clad in a ravishing red sari sat beside a man on a settee, holding a baby. They appear very serene and complacent. Chinoy's theme for this exhibition was women and serenity.

Chinoy laments about women's situation in her work, but her progress towards finding solace is evident in her latest canvases. While talking to The Express Tribune, she said that almost all of her paintings portray a Utopian world where women and men are equal.

According to Chinoy, women should not waste their talents but recognise their significance in raising a healthy society. "I'm not saying that a woman should ignore her family," she said. "But she must take out time to serve society by employing her talent."

Explaining her work, she said that the focus was on a woman's eyes and lips. The large, kohl-laden eyes and bold red lips imply determination and perseverance. Some of her pieces also have a personal touch to them. Black and white squares resembling a chessboard show the passionate love that she has for her family. Chinoy described the illustration as a part of her past - the black and white squares resembled the tiled floor in her parent's house. These squares can be found in most of her paintings somewhere in the background.

Another feature of her work is birds. For example, a white bird was presented beautifully on canvas, for Chinoy, this is about freedom, hope, peace and beauty. It explained Chinoy's motto of 'not giving up and finding peace'. Instead of whining about what women are not doing or what they have been deprived of, the artist has taken a comparatively optimistic approach. She has focused on finding peace by doing something.

Marjorie Husain, a renowned art critic who has also written a book on Chinoy's work, stated that this time her art depicts a calm and more relaxed attitude. "Her holiday with the grandchildren has made her relaxed," said a laughing Husain.

Proudly boasting of her achievements, Chinoy told The Express Tribune that her art exhibition in New York was so lucrative that all the paintings sold out on the first day. "I couldn't go to Washington DC for my next exhibition because I was left with no paintings," she said.

Speaking about her personal life, Chinoy, said that now she is happy. She added that she has two daughters who have blessed her with grandchildren and a sense of completeness. "A woman achieves her potential when she has a happy family without neglecting her career," she said, explaining very well the message behind the gripping Family portrait.

The exhibition, Live and Let Live is set to continue at Momart Art Gallery till May 10.

Published in The Express Tribune, May 2nd, 2014.