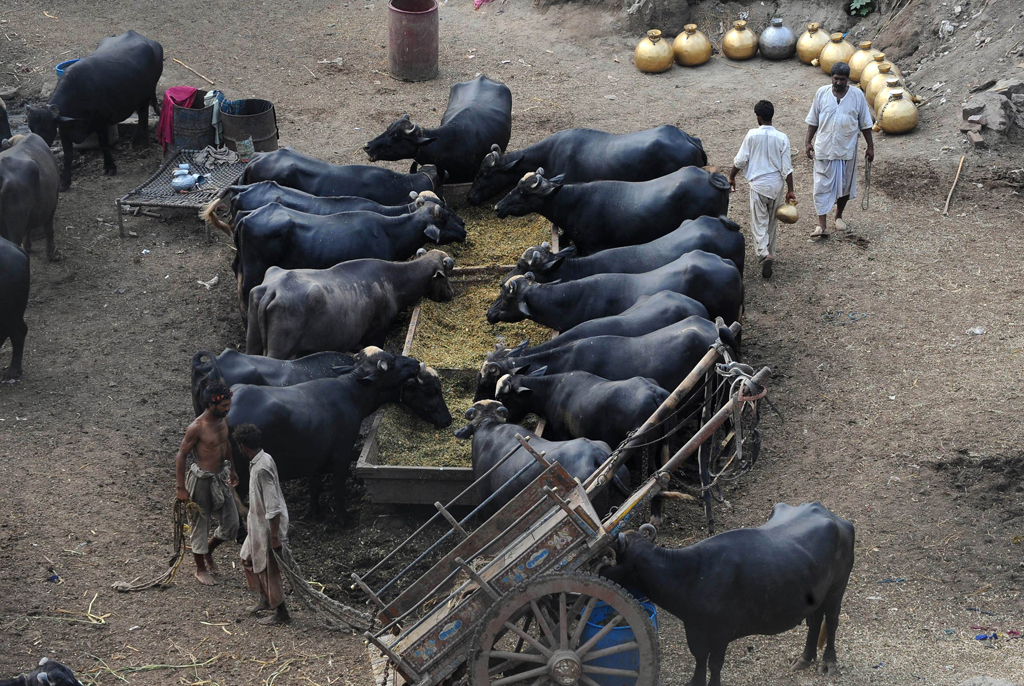 ---
KARACHI:



In terms of total tradable white milk, Pakistan is the third largest milk producing country in the world with annual turnover of 20 billion litres, according to 2012 official estimates. India and the US are the largest and second largest, producing 54 billion litres and 21 billion litres respectively.




By contrast, Pakistan is at least 4 billion litres short of meeting local demand, ending up as a net importer of milk products. It ranks equally high – the third highest – in terms of per capita milk consumption.





Source: Dairy Incidence Study 2010- U&A study 2010-IFCN reports - Dairy Farmer & Specialists reports




According to government's estimates, the country produces 38.5 billion litres of milk a year – not all the dairy players agree on these statistics, which are about seven years old but there is no alternative study available to find the latest number.

"I would be surprised if we are anywhere near the top 10 milk producers in the world," Engro Foods' Chief Executive Officer Sarfaraz Rehman told The Express Tribune. "The country faces severe shortage of milk and we don't find enough to meet our demand," he said.

Rehman, however, endorsed the official estimates of total tradable milk available in the market.

Of the total production, 20.75 billion litres are tradable while 11 billion litres are kept by farmers and 6.75 billion litres are lost in the value chain, official statistics show.

The untaxed informal sector comprises more than 90% of the fresh milk market but lacks a proper cold chain and preservation techniques to stop wastage – the unhygienic conditions under which loose milk is handled are also a health concern.

Undeveloped

It is primarily because of primitive dairy farming practices and lack of infrastructure and training that Pakistan's dairy sector, despite its massive economic potential, remains largely unstructured and undeveloped. The developed formal sector, on the other hand, is not even 10% of the market.




According to industry experts and executives of dairy companies, there is a huge untapped potential in the dairy segment but it is mostly part of the informal economy. If developed properly, they say, it could make a significant contribution to the national economy.

According to data, dairy and livestock constitutes about 12% of the country's gross domestic product and 46% of the agriculture sector that employs nearly half of the total workforce. Dairy milk alone accounts for 27% of the agricultural economy.

There are 10 million dairy farmers, of whom 95% are small farmers with two to three milk-producing animals. Though current numbers are unavailable, as per 2007 estimates, the country had 72 million milk-producing animals.

However, the animal herd in Pakistan is spread across thousands of square kilometres with an average of 2 to 5 animals per household – which remains undocumented and untapped, according to industry sources.

Investment

It is perhaps this untapped potential that the dairy segment has attracted a lot of investment recently. It got $700 million in foreign direct investment during the last five years while the formal sector paid $28 million in taxes last year alone.

The private sector – dairy companies like Nestle Pakistan, Engro Foods and packaging giant Tetra Pak – has started farmer training programmes for development of the dairy sector and the results are encouraging. Calf mortality rate has dropped and animals' daily yield has improved with the farmers trained by the formal sector.

Corporate farms

The overall share of the processing industry is growing at 19% whereas loose milk is growing by only 3%, the industry estimates show. All processed milk formats including UHT, powder, chilled plastic pouches and other aseptic pouches are gradually gaining share.




In fact, some of the country's leading businessmen, including the likes of Mian Muhammad Mansha, have also entered the dairy segment and set up what are now called corporate farms. Mansha owns the largest corporate dairy farm with 5,000 milk-producing imported animals.

In a white paper written on the dairy sector in June 2006, the formal industry had proposed to improve the dairy sector through improved research facilities, training of farmers and veterinarians.

Other proposals included improving the cold chain, promoting healthy pasteurised milk, developing model commercial dairy farms and focusing on breed improvement.

There is certainly a huge potential in the dairy segment but the country needs to graduate from buffalo milk – which is about 70% of the total milk produced in the country – to cow milk, Engro Foods' chief Rehman said. reporting by Farooq Baloch

Published in The Express Tribune, April 28th, 2014.

Like Business on Facebook, follow @TribuneBiz on Twitter to stay informed and join in the conversation.
COMMENTS
Comments are moderated and generally will be posted if they are on-topic and not abusive.
For more information, please see our Comments FAQ