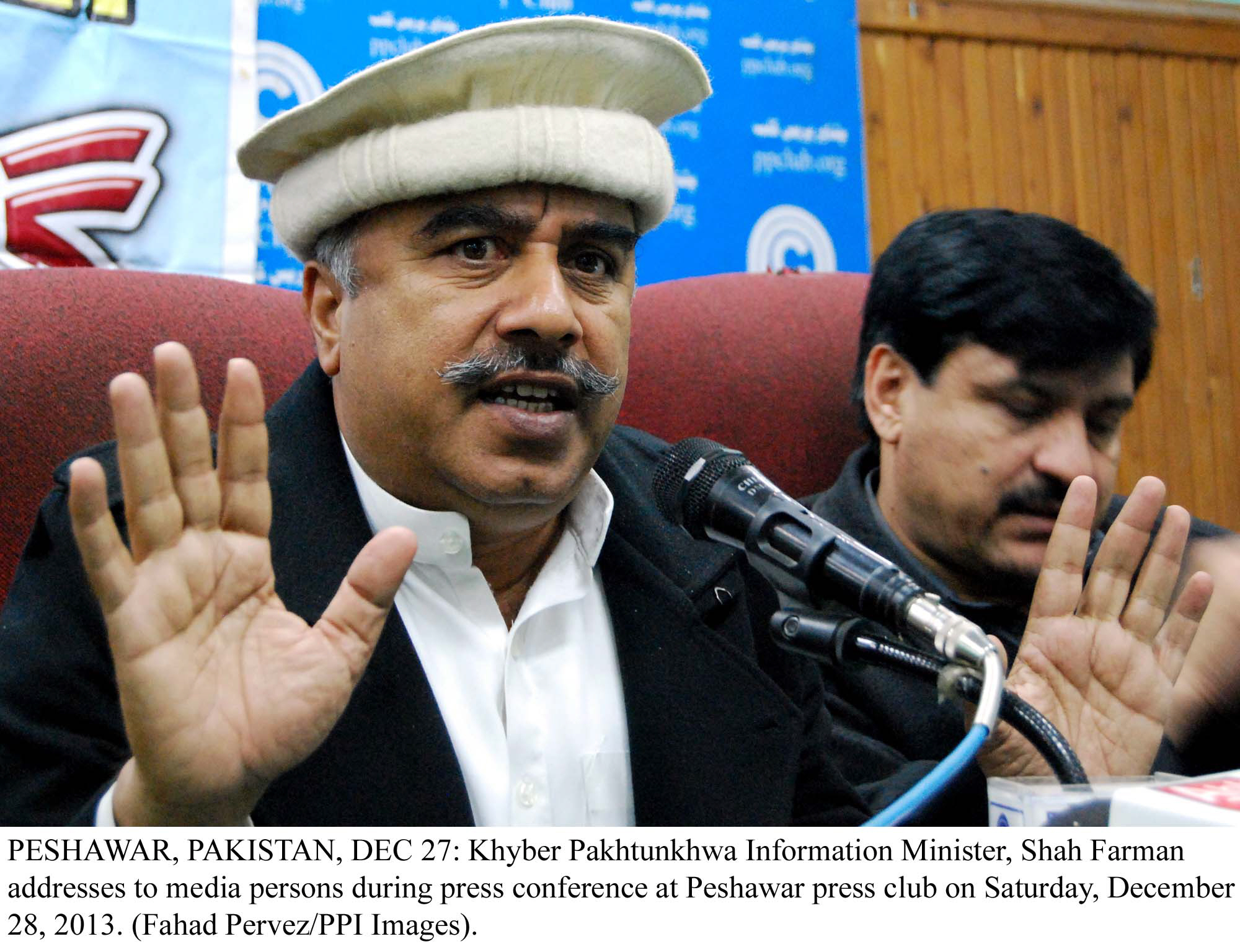 ---
PESHAWAR:



Responding to rigging allegations in this week's by-elections in PK-86, Swat, Khyber-Pakhtunkhwa (K-P) Information Minister Shah Farman asked Pakistan Muslim League-Nawaz (PML-N) to come up with proof to substantiate its 'baseless' accusations.




Addressing a news conference at Officers Mess in Peshawar on Saturday, Farman accused PML-N Senior Vice President Amir Muqam of perpetrating allegations against Pakistan Tehreek-e-Insaf (PTI) candidate's victory in PK-86 in Thursday's by-elections.

"Muqam wants to delegitimise our scheduled protests in Islamabad on May 11 regarding the recount in fouronstituencies in Punjab, where general elections were rigged last year."

He said rigging was not plausible as K-P's government did not send any ministers to visit the area. Farman added Chief Minister Pervez Khattak had even cancelled a trip to Swat before election time.

"It is PML-N that attempted to rig the election of PK-86," he said, referencing the party's influence on the Water and Power Development Authority (Wapda).

"Wapda is a federal authority and it's notorious for failing to provide the masses with power on a regular basis but it suspiciously provided the area of PK-86 with power pylons and power transformers," he said.

Referring to Wapda's 'unusual' efficiency, Farman said, "these rigging attempts were below the belt on the part of the central government," adding FIRs have been filed against people involved in enhancing power infrastructure at a time when the Election Commission of Pakistan (ECP) had banned all development activity.

"While we have accepted the May 11, 2013, results, we want a recount in four constituencies in Punjab to prevent future rigging attempts for a true democracy to materialise in the country," he said.

With respect to PTI protests planned in the federal capital next month, Farman said the provincial government will participate.

Published in The Express Tribune, April 27th, 2014.