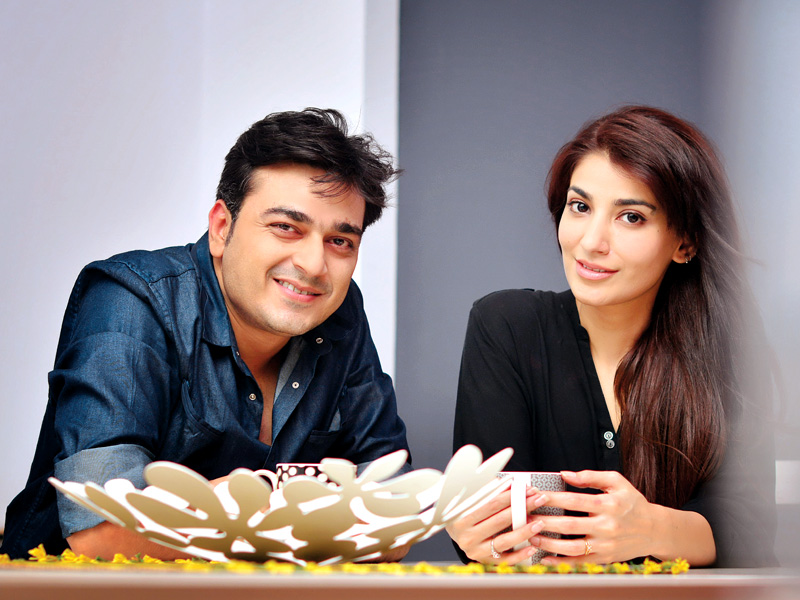 ---
KARACHI:



The gorgeous Megan Fox once said, "I've learned that being a celebrity is like being a sacrificial lamb. At some point, no matter how high the pedestal that they put you on, they're going to tear you down." This can't be truer for Naveen Waqar, the VJ-turned-actor who scaled the heights of the profession after her role in the hit television drama serial Humsafar (2011-2012).




Naveen received immense recognition for her antagonistic role in the drama serial. However, her joyride was short-lived as the pictures of her strictly private wedding ceremony with actor-director Azfar Ali were leaked right around the same time when Humsafar ended.

This led to a major backlash from the fans and also forced the newlywed couple to go into hibernation. Over the span of two years, Naveen has lost a lot of weight, but gained tonnes of confidence. Accompanied by her real-life 'humsafar', Azfar, she speaks her heart out in their cosy apartment.




"I never expected Humsafar to be such a success and when it happened, I didn't expect the fame to backfire on my personal life," Naveen said. "Had it not been for Humsafar, my marriage wouldn't have been such an issue."

In the drama, Sara (Naveen) is obsessed with Ashar (Fawad Khan), who gets married to Khirad (Mahira Khan). Post Humsafar, the news about Naveen getting married to Azfar began making the rounds on social media when Azfar was already married to actor Salma Hassan. The self-assumed real life and reel life parallels followed.

"It's funny how Annie Ki Ayegi Baraat was being aired right when I was getting married to Azfar, but none of the fans drew a comparison between my [protagonist] character and marriage in real life" Naveen says. "I kept on wondering why people are not making a connection here, but then people have the right to think what they want to and we have the right to be upset about it."

Public figures tend to make a lot of decisions that are not received well by their fans, but are the best possible solutions to their personal crises. For Naveen and Azfar, it was time that they got married because they had been seeing each other for over five years before they got hitched.

"The beauty of it all is that having done the right thing makes you a wrong person or to make it clearer, having done something legal makes you immoral," Azfar shares.

"I can't even call it right because there is a second woman and my daughter involved in it. I don't want to explain to people how great I am with my daughter and how often I interact with Salma. That's simply our headache."




Shows, such as Sab Set Hai and his famous radio show with Mani had gotten Azfar a massive following and all of that was forgotten in the blink of an eye. The reaction by fans and friends to this decision also made him realise who his genuine admirers are. Azfar's sense of betrayal is evident as he speaks. Though, one wonders why Azfar was expecting a rational response from fans, whose admiration is always impulsive in nature.

"A fan is someone who stands by you through thick and thin, and shows support irrespective of the decision that you are making in life. And by that logic, I don't think that I had any fans" says Azfar in a disappointed tone.

The couple asserts that people might consider it a fun ride, but it really hasn't one. They don't realise what kind of a damaged lifestyle both of them were living prior to their marriage. Most of their time was initially spent in sorting out the pre-marriage issues, and then, the post marriage hue and cry. They have finally given their lives a new beginning.  The situation has particularly been daunting for Naveen, who has had to establish a strong bond with her husband's daughter and the daughter's mother.

"To be very honest, I was very scared before getting into this and didn't know how Fatima (Azfar's daughter) was going to react to it," says Naveen. "I am building a relationship with Fati (Fatima) and by the grace of God, she has warmed up to me. Whenever she comes over, we hang out, watch movies and chill out."

Azfar believes that such a cordial relationship and 'planting a new seed' wouldn't have been possible without his ex wife's support and resilience. "If she wanted, she could have created a furore, but I am glad she understood and made things easier for both of us," Azfar shares with conviction and Naveen strongly agrees with him.

Apart from their personal lives, their professional lives have faced a two-year-long hiatus and now, that will also end with their upcoming sitcom Uff Meri Family. With Azfar and Naveen in the lead roles, the sitcom is being directed by Azfar himself and can be considered as a Everybody loves Raymond spin-off.  It will be aired on a local entertainment channel in the first week of May.

Published in The Express Tribune, April 27th, 2014.

Like Life & Style on Facebook, follow @ETLifeandStyle on Twitter for the latest in fashion, gossip and entertainment.
COMMENTS (21)
Comments are moderated and generally will be posted if they are on-topic and not abusive.
For more information, please see our Comments FAQ