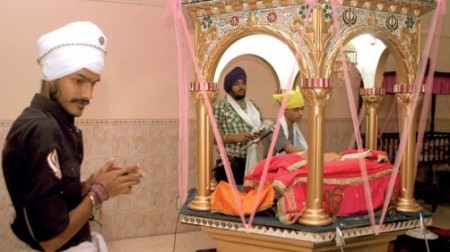 ---
KARACHI: Almost one thousand Sikhs in Karachi celebrated the Baisakhi festival on Wednesday at their biggest gurdwara in the city, Sikh Sangat, near Ranchore Line.

'Ardaas', which is a recitation of their holy book, Guru Granth Sahib, started at 4 pm and lasted till 10 pm. This was followed by the singing of hymns or 'kirthar' and the ceremony ended with the distribution of prasad among the devotees. The way to the gurdwara is through narrow lanes.

At the main congregation, several women were busy giving lastminute touches to the decorations they got up early in the morning for. "We decorate the gurdwara first and get ready later," said one woman, explaining that they keep visiting the gurdwara at different intervals throughout the day.

Young girls, on the other hand, were excited about their new clothes. "This year we made identical clothes," seven-year-old Simrin Kaur said, pointing to her friend, Malkeet Kaur. The scope of the celebrations has, however, declined over the years. "We used to celebrate it for three days but we only have a proper function on one day now," said a woman, explaining that it has become too expensive to hold three-day celebrations.

Despite the financial constraints, Sikhs mark this festival by sacrifices, assemble at the gurdwara and spend time with each other. The Baisakhi festival marks the occasion of the birth of Khalsa.

It is a concept introduced by the tenth guru after the ninth was killed by Mughal Emperor Aurangzeb. It marks a major shift in the religion as this was when Sikhs began to take part in military combats. In the Punjab, Baisakhi also marks the time of wheat harvest but since there are no crops in Karachi, Sikhs in the city celebrate it as the New Year.

Another event of the evening is the flag-changing ceremony. The flag is printed with photographs of the 10 gurus of the Sikh religion.
COMMENTS
Comments are moderated and generally will be posted if they are on-topic and not abusive.
For more information, please see our Comments FAQ