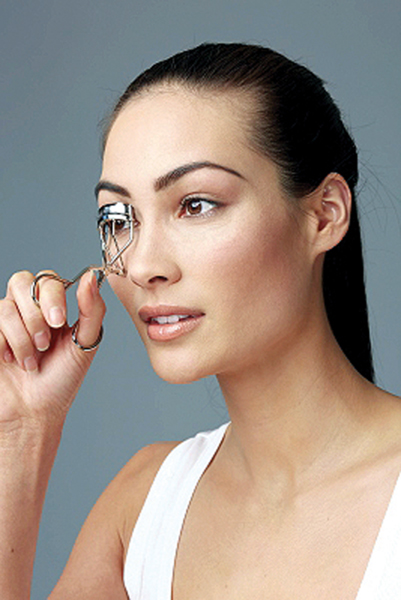 ---
Getting a great look is not easy. And when it comes to applying make-up, especially mascara, you have to be careful. Small mistakes can make or break your day. Getting long and curly eyelashes is the secret of getting beautiful and dark eyes that suit your overall look and style. Fuller, thicker lashes are just a few brush strokes away! We hope these tricks and tips, put together with some help from MSN Living, will help you get the most from your lashes:
How to apply mascara


Start by curling the top lashes; begin at the root of the lashes and be careful not to get any skin into the eyelash curler. Press the curler together and hold for about 10 seconds. Then, move the curler out to the end of your lashes and repeat. Again, this step is optional but it does make for longer looking lashes and opens the eye.


 To make your eyelashes look even thicker, a trick is to apply black eye pencil between lashes.  To do this, pull up your lashes just a bit, and run the black eyeliner on the top of the inner waterline. Then blend it with a liner brush. Even though this is subtle, the black base it creates automatically gives the appearance of thicker, fuller lashes.


 Begin with the bottom lashes to prevent those tiny dots that appear on your eyelids when you look down to apply mascara to your bottom lashes. For the top lashes, look straight forward, take the wand and place it at the base of your lashes. Using a back-and-forth motion while moving the wand up your lashes, sweep upward. This will help give your lashes a curled effect. Keep repeating this until you get your lashes as thick as you want, usually 2-3 coats.  Alternatively, hold the wand vertically and gently skim it across your lashes in a windshield-wiper motion. This fans them out and gets rid of any clumps on the tips.


 

When it comes to the bottom lashes, tilt your head forward slightly to keep from getting mascara onto your cheek. Use the same side to side motions until you get a good coat of mascara on your lower lashes. Mascara on your bottom lashes finishes the look. Hold the brush vertically and lightly paint each lash; that way, it won't smudge. If you have problems with mascara transferring from your lashes onto your eyelids or cheeks, use a business card, credit card or small piece of paper and hold over the area while applying your mascara.

Tips to remember

•  Don't pump the wand in and out of the bottle. This pushes air into the tube which will make the mascara dry out faster causing clumping and flaking. Instead, gently twist the back and forth or in circular motions to pick up the desired amount of product.

• When you remove the wand from the bottle make sure to scrap off any excess mascara from the wand. This will help you avoid making your lashes clumpy.

Published in The Express Tribune, April 24th, 2014.

Like Life & Style on Facebook, follow @ETLifeandStyle on Twitter for the latest in fashion, gossip and entertainment.
COMMENTS
Comments are moderated and generally will be posted if they are on-topic and not abusive.
For more information, please see our Comments FAQ