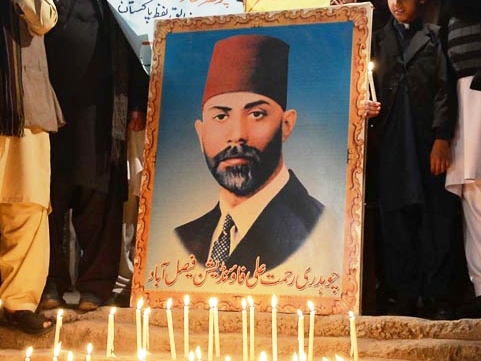 ---
KARACHI:



Chaudhry Rehmat Ali, the man who coined the name, 'Pakistan', and is distinguished as one of the first proponents for the creation of a separate state for Muslims, has not been given due respect by historians. This was discussed by speakers at a seminar at the Arts Council of Pakistan on Saturday night.




The participants comprised political scientists, history experts and columnists who agreed on the notion of bringing back the remains of Ali's body from Cambridge, UK, to Pakistan and giving him a burial place in the Quaid-e-Azam's mausoleum. The seminar titled, "Quaid-e-Azam ka Pakistan aur Chuadhry Rehmat Ali ka Aizaz," was organised by the Chaudhry Rehmat Ali Memorial Society to commemorate the leader.

The speakers noted that despite his achievements and struggle for the creation of the country, Ali could not get the honour and respect he deserved. University of Karachi department of mass communication's chairperson, Dr Tahir Masood said that Ali not only coined the name, Pakistan, but also gave the idea of a separate state for the Muslims of India in his pamphlet, 'Now or Never'.

"The arguments put forth by Rehmat Ali for the case of creation of Pakistan in this pamphlet were the same used later by the Quaid-e-Azam to convince the British and the Congress," said Masood.

Quoting historian KK Aziz, Masood said that Quaid-e-Azam used several sentences from 'Now or Never' in his address on Pakistan Resolution Day, during the Muslim League session at Lahore. He added that Muslim League leaders had no new vision, argument or point in favour of Pakistan, besides those already presented by Ali. He was a visionary researcher and thinker and a true sympathiser of the Muslims of India.

Published in The Express Tribune, April 21st, 2014.