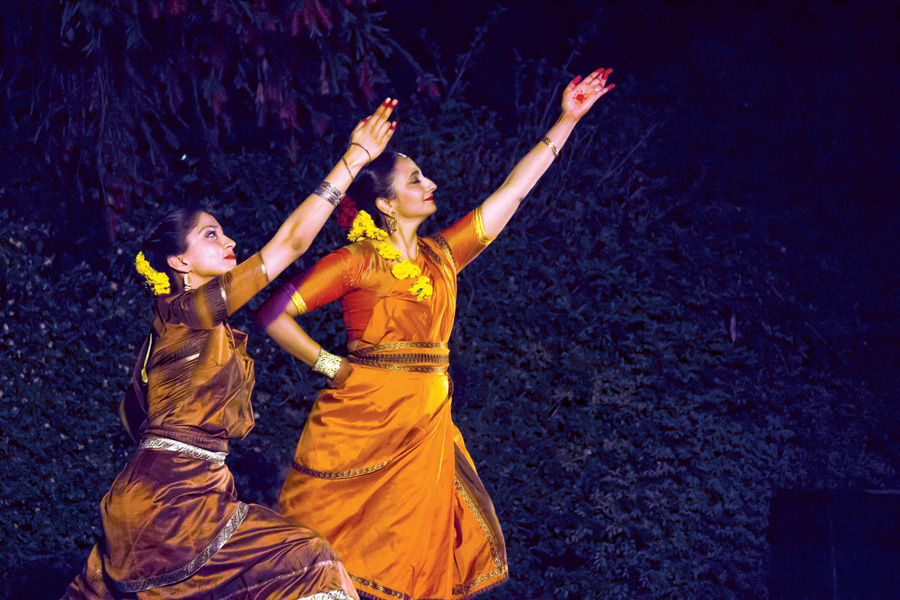 ---
ISLAMABAD: A large crowd was mesmerised by dance performers at an open theatre here on Saturday late evening.

As part of the third segment of the Colours of Life festival, "Dance for Change" was held at Kuch Khaas to promote the universality of art from cross-cultural perspectives.

Neon-tinted spotlight beamed at the open air stage as the event began with a classical dance performance choreographed by Amna Mawaz.

The appeasing performance was a fusion of classical with contemporary dance titled "Jaal". Dressed in copper silk saris accessorised with yellow flowers in their hair, dancers Amna Mawaz and Feriyal Aslam were complaisant with their foot movement, making it a placating watch.




The successful convergence of genres, from classical "Dhun Pahardi" to "Teardrop" by Massive Attack, was made successful with a magnificent contemporary dance input by Faizaan Ahab and Kuch Khaas dance crew, who made the fusion performance regale.

While trying to keep the tradition alive through this style of dance, Mawaz said that they were trying to change the way youth sees this art form. "The fusion with contemporary is relatable for youngsters," said Mawaz. Aslam said that the dance was a way to change people's perception of this form. "People only know of Kathak. After our performance, we make sure to educate our viewers about the link of this form of dance with our history," she said.

Moving on to "Salsa Fusion", an amalgamation of different genres such as jazz, Bollywood, hip hop, salsa and sufi styles, choreographed by Wahab Shah Dance Company, performers Wajahat Chatha, Ramiz Law and Saarah Malik  mesmerised the audience with their electric performance.

Dressed in black vests, Chatha and Law did justice to hip-hop dancing, while warily fusing into Bollywood, and Malik's addition set the stage on fire. The dancers' moves, supported by their facial expressions, were entertaining. Malik, in a flowing dress, performed acrobatic moves including flips, slides and twirls.

While the performance brewed energy in the crowd, "Set fire to the rain" choreographed by Zain Sadiq and Kuch Khaas crew kept the momentum of the show. Dancers stood around nine-year-old Murtaziz Ali while performing street dance.




The energetic performance merged into a surprise performance on the Bollywood song "Baby Doll", allowing the male dancers to perform seductive dance moves, bring rip-roaring laughs and whistles from the audience.

"For us, dance to make people smile is the change we wanted to see tonight," said Said Ali. "People are frustrated with the sad headlines that they encounter every hour. I think it's essential to make people happy and help them smile for a change," he added.

The last performance was "Coven" by Faizaan Ahab. Dressed as witches, Maha Usman, Komal Jamil and Mominah Khan presented the contemporary ensemble that narrated the rise and fall of maleficium (witchcraft).

Ahab epitomised contemporary dance with some eclectic dance moves, as flickering lights supported the essence of the theme. Occasionally, skilfully bending his back to an inch above the ground and back on his legs, Ahab's performance was endearing. "The message on good and evil and how lesser evil takes over is projected through the performance," said Ahab.

"It was an entertaining evening. I had a great time with my friends," said Bashir Khan. The festival will feature Mamalade Session - Salsa and Jazz Night and International Dance Day Celebrations and a food bazaar later this week.

Published in The Express Tribune, April 21st, 2014.