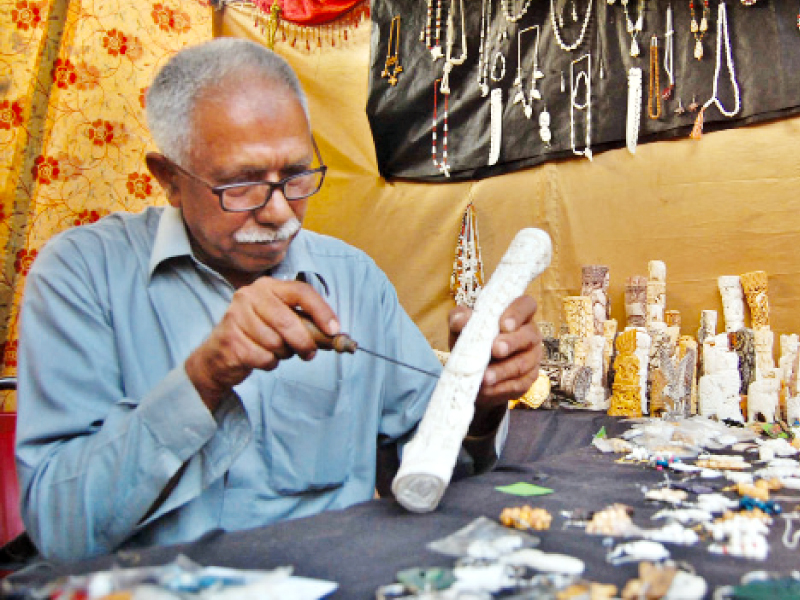 ---
ISLAMABAD:



Finely-sculpted mythical creatures, elephants and lions mounted on top of one another beckon visitors with a promise of the magic of bygone days. Each sculpture is crafted by hand from a single piece of camel bone.




"Few people appreciate the value of this craft," Abdul Rasheed Qureshi says of the visitors at his stall at the Punjab Pavilion at Lok Mela.

He was only eight when he was apprenticed to his father. He has been creating hand-crafted items from camel bone before boys his age graduated from high school.

His is the last family in Multan to carry forward the centuries-old tradition. Previously, 500 people were engaged in this line of business.

The son of a craftsman renowned for his skill, Qureshi nevertheless started small. He supplied ballpoint pens, necklaces and chess pieces to a few shops in the twin cities and Murree for only a fraction of the price customers paid for them.

Despite working 18 hours a day, he didn't have a place to display his wares or a roof over his head. Most of our pieces were sold to a middleman whose commission we could not afford, he said. Word of mouth didn't travel fast enough in those days. "After his death, I decided to become independent and market my products."

The first time he was invited to the Lok Mela in 1983, he won an award. He has been coming ever since to the annual folk festival. His dastarbandi, a tradition initiated by Lok Virsa, was held in 2010, during a ceremony in which a turban is presented to honour a master craftsman.

Qureshi is proud of the fact that his handiwork won Pakistan first prize for handmade crafts at a trade fair, ITB Berlin, beating entries from 126 countries in 1988.

With 50 awards under his belt, small wonder he's baffled at the delay in winning a presidential award for which he has been nominated thrice. The Pride of Performance is the only honour to have eluded him so far, but he's confident one day he'll win on merit.

In 2003, a former governor of Punjab established the country's first craft bazaar in Multan where he was allotted a shop to showcase his skill. Previously, customers had to visit my house to see the pieces, he said.

His forefathers held their secrets close to their chest; Qureshi believes in sharing the legacy. He mentors students in Multan and the twin cities and helps them refine their skill. "This skill forms part of Pakistan's heritage."

I've created the world's smallest elephant. It's the size of a chewnti (ant), visible only through a magnifying glass," he stated.

A fourth-generation artisan, he has spent over four decades perfecting his skill. No individual has a monopoly over art. I continue to learn even now and challenge myself.

He points to a panaflex hanging behind him. It is emblazoned with a picture of an arched model topped with domes, a tribute to Islamic architecture that he created to challenge his inner artist.

I'm thinking about creating a masterpiece to showcase at an international exhibition, he mused. Qureshi hopes to outdo himself next time.

His four sons work with tools he has fashioned for them. I've made the job easy for my sons; we had our work cut out for us, he said.

"My wife and my daughters also design for us." My younger daughter likes to innovate and takes great interest in the pieces we create, he added, holding up a multi-strand necklace held together with domes.

The realisation that artisans aren't valued in his motherland dampens his spirits sometimes.

A little government support would go a long way. "I would like to open an academy to train young people in the craft and help them earn a decent living."

Published in The Express Tribune, April 20th, 2014.